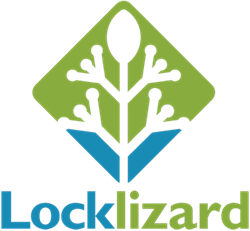 PDF DRM Security can be an enabler for business if used correctly and in the right circumstances.
London, England, UK (PRWEB) June 04, 2014
One of the opening themes for Infosecurity Europe this year is using security as an enabler. But the big issue for the IT security professional is how to spot the safe opportunities and invest in them. There are no prizes for picking a project, however attractive, that takes too long to implement and is too expensive.
LockLizard, the PDF DRM specialists, have been working with their customers for many years to provide cost-effective methods securing information that has to be shared internally and/or externally to achieve business objectives and increase profits. As part of that process, we are moving to releasing a browser based viewer to complement viewers for the PC, Mac, iOS and Android platforms.
The LockLizard Safeguard and LockLizard Enterprise products secure information right from the start by encrypting it and applying DRM controls. So the information owner has the ability to enable people to work with proprietary (or secret) information on terms that they license, by controlling what they are able to do with that information, where they can use it, and for how long.
The development of the new browser based viewer provides LockLizard with an additional DRM enabler to complement the existing high security viewer family. The browser viewer provides publishers with a more flexible deployment into a wider range of environments, and requires no installation by the user. This means there are fewer arguments to prevent rapid deployment.
Much is made by naysayers that DRM somehow reduces or even compromises computer security, and that it is dangerously invasive, preventing users from doing as they see fit with protected information. Some even claim it is the DRM controls that force them to behave badly. LockLizard products are none of those things. What they do is allow DRM owners to exert the rights that they need in order to protect their own commercial interests. Not everything passing over the Internet is 'fair game' for anyone to read or to pass on. And there is a strange tendency to forget that information owners have rights every bit as much as anyone else.
LockLizard are at the forefront of promoting cost-effective DRM solutions that support the controlled distribution of information, whether that is to control disclosure required by law, in support of due-diligence, controlled disclosure of proprietary materials to partners or distribution of information subject to Copyright Collecting Society approval. Publisher costs are predictable year on year as you are not charged for the number of customers/users you work with or the number of documents they can use.
About LockLizard Limited
LockLizard is a document security company that specializes in encryption and Digital Rights Management software for protecting documents against theft and misuse. We are the premier DRM suppliers for publishers, enterprises and governments, meeting and exceeding requirements for the finance, auditing, semiconductor, training, publishing and analyst communities. Launched in 2004, we have more than 50 years experience in the IT security, DRM (digital rights management), encryption and copy protection industries.
For more information, visit the LockLizard web site at http://www.locklizard.com or give us a call on 800 707 4492 (+44 292 430290 in Europe).