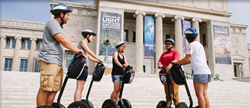 We endorse and approve of these changes that will make Segway tours safer both for our guests and all visitors to Grant Park.
Chicago, IL (PRWEB) June 03, 2014
City Segway Tours of Chicago, a leading Segway tour company that specializes in educational and fun excursions throughout the city of Chicago, recently released a statement commenting on the Chicago city ordinances approved on May 28, 2014 that put limitations on Segway group tour sizes.
According to the Sun Times, in their May 28, 2014 article "City puts brake on Segway tours" by Fran Spielman, the new regulations limit Segway tours approaching 30 tourists or more to no more than eight devices per tour. Alderman Brendan Reilly of the City Council, in his decision on Wednesday night, cited safety for pedestrians and Segway riders alike in their decision to implement the rules.
City Segway Tours released a statement in agreement with the new set of regulations, as safety is one of their key priorities. "City Segway Tours welcomes the new rules set forth by the City of Chicago and Chicago Park District on May 28," said Graham Robinson, Chief Operating Officer. "We endorse and approve of these changes that will make Segway tours safer both for our guests and all visitors to Grant Park."
For City Segway Tours, several of the rules mirror the precedent that the company had already established. For example, to help create the best tour possible with maximized safety, the Tours' normal group size is currently capped at eight people or less.
"Many of the new rules now match existing internal policies that City Segway Tours adopted several years ago," continued Robinson. "We appreciate the City's move to enforce these safety regulations and we look forward to working with Alderman Reilly in the future. City Segway Tours continues to welcome feedback from the city and the residents of our neighborhood."
With the new regulations, tourists of Chicago will not encounter any changes to the City Segway Tours experience. The company will continue to offer five different packages for visitors to experience the City of the Chicago with options for a two-hour tour; three-hour tour; three-hour evening tour; architecture tour; and summer fireworks tour.
About City Segway Tours:
Since City Segway Tours first set up shop in the Windy City roughly a decade ago, their focus has been simple: Provide smart, fun tours to anyone looking to see Chicago from a little different perspective. The Segway tour company features tours throughout Chicago, Atlanta, Berlin, Munich and Paris. Segway tours in Chicago have a tour menu of options starting at $60 per person. All tours require reservations in advance and can be booked through the website with a credit card.