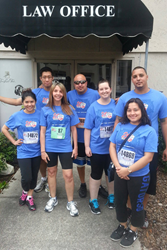 (PRWEB) May 29, 2014
Orlando Foreclosure Attorney Elayne M. Perez and the staff members at her law firm put on their running shoes and participated in this year's IOA Corporate 5K, an Insurance Office of America (IOA) event that was held on April 17, 2014. According to the website of Track Shack, all proceeds from the 5K event go to the Track Shack Foundation, a nonprofit organization that funds youth sports and athletics programs through grants. This year's IOA Corporate 5K marked the 20th year that the event has been held. The attorney and staff members at Elayne M. Perez, PA are pleased that they were able to take part in this fundraiser and make a difference in the lives of young people.
According Track Shack's website, more than 18,020 runners and walkers participated in this year's IOA Corporate 5K. Of all the event attendees, there were a total of 790 teams. The festivities, which were held in the evening, included the 5K run/walk on Central Boulevard and Eola Drive, the presentation of awards and a fireworks show at Lake Eola. In addition to raising funds for young athletes, the IOA Corporate 5K is also held for the purpose of promoting healthier workplaces for businesses and organizations throughout Central Florida. The event has been held since 1995 and has been coined as "Orlando's largest office party."
Attorney Perez recognizes the importance of promoting healthy lifestyles, as well as of giving back to the local community. From a professional standpoint, the lawyer is committed to helping individuals and families avoid foreclosure when they are on the brink of losing their homes. She helps clients avoid foreclosure through bankruptcy, debt negotiation and other foreclosure defense options.
Ms. Perez obtained her law degree from Temple University in 1998. She is admitted to practice law in the state courts of Florida, Pennsylvania and New Jersey, and she is also admitted to practice in the United States District Court for the Middle District of Florida. She is a member of multiple professional organizations, which include the Central Florida Bankruptcy Law Association, the Hispanic Bar Association of Central Florida, the Orange County Bar Association and the National Association of Consumer Bankruptcy Attorneys.
Elayne M. Perez, PA is an Orlando foreclosure defense law firm that is built on more than 20 years of collective experience. Homeowners who turn to the law firm for assistance get to benefit from personalized legal counsel, consistent accessibility and affordable legal representation. Elayne M. Perez, PA offers free case consultations for individuals who would like to explore their foreclosure defense options at no charge. More information about the firm can be found at http://www.perezlawassociates.com/.