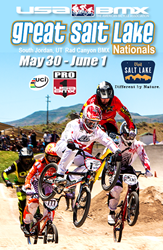 Established in the late 80's, and supported by the Salt Lake City Parks & Rec, Rad Canyon BMX has consistently hosted National-level BMX events each year. The economic impact of this event will bring millions of dollars to the Salt Lake City economy.
Gilbert, AZ (PRWEB) May 31, 2014
The annual USA BMX Great Salt Lake Nationals lands in South Jordan this weekend - bringing along more than 1,000 amateur competitors from over 30 states to the Salt lake City area.
Among those in attendance this weekend will be the Men's Olympic Gold medalist from both 2008 & 2012 - Maris Strombergs, who hails from Latvia but now calls Southern California his home. The USA BMX No.1 Pro title is about the only major accomplishment that Maris hasn't achieved; but he's off to a good start so far this year, with four wins from his nine podium finishes.
Strombergs' biggest obstacle, other than the super fast, jump-infested dirt track, will be Olympic silver medalist and reigning USA BMX No.1 champ Sam Willoughby, of Australia. So far this year, both Sam and Maris are in a heated battle for the Pro title; which concludes in November.
Willoughby, who now calls San Diego, CA his home, has had tremendous seasons the past two years - taking home consecutive No.1 Pro titles, to add to his 2nd place at the London Olympic games. "Getting the No.1 Pro title in USA BMX has meant more to me than the Olympic silver medal," Sam has told the press. "The USA BMX title is not just a one-race Championship. To earn the No.1 plate here in America, it takes consistency all year long. It's a long and tough season, but I'm looking forward to defending it and try to make it three in a row."
Along with top Pros and Olympians, there will be over a thousand amateur racers - ranging in ages from 2 to 70-plus. They will compete over the 3 days of racing - this Friday, Saturday and Sunday.
Racing will kick off on Saturday afternoon, with the Strider bike class - for 2 & Under, 3, 4 and 5 year olds, and then go into Pro and amateur racing non-stop throughout the day. At the other end of the spectrum, there will be plenty of parents (and even some grandparents) competing in the larger-wheeled classes for 30, 40, 50 and 60+ year olds. This is a big part of what makes BMX racing such a great Family sport - where moms and dads get to participate along with their children.
Among the many riders to keep an eye on during the non-stop action and excitement of the weekend will be 11 year old "Cannonball" Jack Kelly - from Kearns, UT. For the past two years, Jack has been the No.1 rider in the nation, out of his age group, and will be the home crowd favorite in the 11 expert division. Other local heroes who come in to the weekend as favorites are the Patterson Bros., from Roy, UT. 23 year old Robby and his older brother Dan both ride for the Utah-based Extreme Team, and are frequently seen in the winner's circle. This season will be Robby's last shot at the No.1 Amateur title, since he plans on turning Pro for 2015.
Great Salt Lake National Schedule:
This USA BMX National takes place on Friday - May 30 and goes thru Sunday June 1 - at the Rad Canyon BMX track located at 5200 West and 9800 South in South Jordan.
Spectating is Free - All Weekend
*Note: There is a parking fee, which goes to support the local track.
Friday: Action begins on Friday with practice throughout the afternoon and racing beginning at 5:00pm.
Saturday: Practice continues in the morning and National racing kicks off promptly at 11:30am with Strider (balance bike) racing for 2, 3 and 4 year olds, followed by the first rounds of Pro racing.
Sunday: Action begins at 8:00am, with the main events starting at approx.12 noon.
About BMX Racing:
Up to eight riders speed down the starting hill, maneuvering over dirt obstacles and around banked turns in hopes of winning a 4-foot tall 1st place trophy. On average, each race is a 35 second sprint, with full contact, close-knit racing and sometimes - thrilling crashes and victories. The Olympic sport of BMX Racing is exciting to watch for all ages! These riders range in age from 2 to 76 and will be racing to amass points for titles in their age classes and the highly coveted USA BMX No.1 Amateur title for boys and girls.