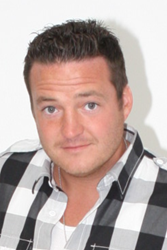 Liam's addition to 98.5 KISS FM rounds out our already talented staff.
Peoria, IL (PRWEB) May 31, 2014
Advanced Media Partners is pleased to announce that Liam McCluskey has joined their team as an on-air personality and Director of Promotions. McCluskey will add his unique persona to 98.5 KISS FM, beginning on Monday, June 2, 2014, handling the 6-10 PM shift, aptly titled, "Liam on the Radio".
As Director of Promotions, Liam will be responsible for the brand development of the 4 radio stations, as well as the coordination and execution of all promotions. Additionally, he is charged with creating and implementing large-scale community events. His appointment was announced by Scott Hecathorn, Operations Manager for Advanced Media Partners Operations.
"Liam's addition to 98.5 KISS FM rounds out our already talented staff," states Hecathorn. "He brings a wealth of radio knowledge and experience as well as an unique perspective to radio. He has a passion for engaging his audiences and making them feel they are a part of the station and its programming."
A 2010 graduate of Illinois Center for Broadcasting, Liam most recently served as on-air talent at KYSN-FM, Kissin 92.5 in Joplin, MO, hosting the night show. Prior to that he was over-night host for WBBM-FM, B96 in Chicago, IL. Liam brings with him an uncanny ability for listener interaction while discussing engaging topics and pop culture.
Liam may be reached at Liamontheradio(at)kisspeoria(dot)com.
About Advanced Media Partners
Advanced Media Partners is the only locally owned broadcast group in Central Illinois. The company owns and operates 4 radio stations in the Peoria market: 96.5 ESPN, 98.5 KISS-FM, 99.9 WWCT and 101.1 JACK-FM.