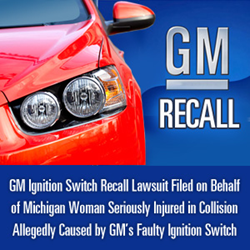 Learn more about filing a GM ignition switch lawsuit, contact the Oliver Law Group P.C. for your free case review by calling toll free 800-939-7878 today or visit www.legalactionnow.com
Detroit, MI (PRWEB) May 29, 2014
The Oliver Law Groups P.C., a law firm representing consumers in GM ignition switch recall lawsuits, notes that a federal judicial panel is set to consider a motion to consolidate all federally-filed claims stemming from the recent General Motors vehicle recall over faulty ignition switches. According to a Notice of Hearing Session issued by the U.S. Judicial Panel on Multidistrict Litigation (JPML) last month, the Panel will hear oral arguments on the matter when it convenes its next hearing, on May 29, 2014 in Chicago, Illinois.(In re General Motors LLC Ignition Switch Litigation, MDL 2543)
According to court documents, Plaintiffs in GM ignition switch recall lawsuits have requested that all federally-filed claims involving the recent recall be consolidated in the U.S. District Court, Central District of California, for coordinated pretrial proceedings. Court filings indicate that at least 15 GM ignition switch recall claims are pending in various federal courts, with eight of those cases filed in the Central District of California.
Among other things, plaintiffs contend that centralization of the GM ignition switch recall lawsuits is warranted due to the high number of similar claims that are likely to be filed in the coming months. Plaintiffs further assert that U.S. District Judge James Selna in Santa Ana, California, is uniquely experienced and positioned to manage the docket, as he recently presided over consolidated actions concerning sudden unintended acceleration in millions of Toyota vehicles. (In re Toyota Motor Corp. Unintended Acceleration Mktg., Sales Practices & Products Liability Litigation, No. 8:10ML2151 JVS)
In February, GM recalled more than 2.6 million small cars that were built with an ignition switch that can unexpectedly and suddenly move from the "On" or "Run" position to the "Off" or "Acc" position. When this occurs, the motor engine and certain electrical components, including the power assisted steering and anti-lock brakes are turned off, thereby endangering the vehicle occupants and compromising the safety airbag system.
Vehicles involved in the GM ignition switch recall include:
2005-2010 Chevrolet Cobalt
2005-2007 Pontiac G5
2003-2007 Saturn Ion
2006-2011 Chevrolet HHR
2006-2010 Pontiac Solstice
2007-2010 Saturn Sky
(safercar.gov/Vehicle+Owners/Consumer+Alert:+GM+Ignition+Switch+Recall+Information, NHTSA, February 2014)
According to the Washington Post, at least 13 auto fatalities have been linked to the defective ignition switch. A congressional probe also determined that GM had made a modification to the ignition switch in 2006 that resolved the issue. Yet the public was never made aware of the problem, as GM did not issue a new part number for the redesigned ignition switch. The company also failed to announce any recall at that time to fix switches in cars that were already on the road.
(washingtonpost.com/business/economy/gm-fined-35-million-in-ignition-switch-safety-case/2014/05/16/f1b92e56-dd08-11e3-8009-71de85b9c527_story.html, Washington Post, May 16, 2014)
On May 16, 2014, GM reached an agreement with the National Highway Traffic Safety Administration to pay a $35 million fine for its failure to address the ignition switch problems in a timely manner. The penalty is the most that the Administration may levy against an automaker in such a case. However, the company could still face a federal criminal investigation, according to The Washington Post.
The Oliver Law Group is offering free legal reviews to individuals who were allegedly injured in automobile accidents related to GM's ignition switch recall. To learn more about filing a GM ignition switch lawsuit, please contact our office by calling 800-939-7878 today or visit http://www.legalactionnow.com.
About The Oliver Law Group P.C.
Oliver Law Group P.C. is a different kind of law firm. One that focuses on the needs of the injured first. A compassionate law firm dedicated to fighting for the rights of victims and their families, and doing everything necessary to ensure those rights.
The experience of a large firm. The 1-on-1 dedication of a small firm. A reputation built on trust.
Experience. Dedication. Trust. Oliver Law Group P.C.
If you would like to learn more about filing a GM ignition switch lawsuit, turn to the law firm with the Experience, Dedication, and Trust you deserve. Contact the Oliver Law Group P.C. for your free case review by calling toll free 800-939-7878 today or visit http://www.legalactionnow.com.