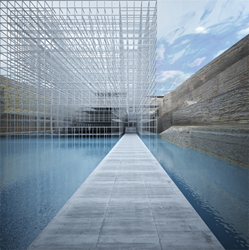 Los Angeles, California (PRWEB) May 31, 2014
Environment Furniture is proud to sponsor GM Architects at the 2014 Venice Biennale International Architecture Exhibition presenting its "Museum of Civilizations" project at the "Time Space Existence" Exhibition at the Venice's San Marco district between June 7 and November 23, 2014.
GM Architects is a Lebanese architect and design firm specializing in high-end hotels and resorts as well as residential. Our paths crossed in 2013 when Environment worked closely with Galal Mahmoud on a large residential project in Greece on the island of Mykonos.
As Environment is deeply attached to the cause of preserving our natural heritage and contributing to make the design world more conscious of sustainable practices, the support of GM Architects' participation at the Venice Biennale is a natural and perfect fit.