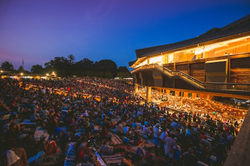 Vienna, Virginia (PRWEB) May 30, 2014
Ben Folds
National Symphony Orchestra
Steven Reineke, conductor
Wednesday, June 25, 2014 at 8:15 pm
In an inspired collaboration, alternative rock star Ben Folds will perform an original piano concerto with the melodic assistance of the National Symphony Orchestra. Folds is showcasing his opus as part of the Ben Folds Orchestra Experience, a national tour featuring renowned local orchestras that provide accompaniment to Folds's newest concerto, as well as pop hits. Best known as the lead singer of the trio Ben Folds Five, the prolific singer/songwriter has recently appeared as a judge on The Sing-Off—an a cappella competition show—in addition to releasing new work such as single "The Luckiest," featured in the 2013 movie About Time. The show will be conducted by The New York Pops music director Steven Reineke, whose "excitement and passion for the material is pleasantly infectious to orchestra and attendees alike," according to EDGE New York.
Video: Ben Folds and the West Australian Symphony Orchestra – "Brick"
Beethoven's 9th
The Philadelphia Orchestra
Bramwell Tovey, conductor
The Choral Arts Society of Washington
Wolf Trap Opera Soloists
Saturday, June 28, 2014 at 8:15 pm
The Philadelphia Orchestra is partnering with Wolf Trap Opera Soloists to fill the Filene Center with the triumphant strains of "Ode to Joy" and bring Beethoven's most famous masterpiece to life. Bramwell Tovey, the esteemed Grammy Award-winning conductor of the Vancouver Orchestra, is conducting the concert, which also features the prizewinning Choral Arts Society of Washington. The evening's program includes Britten's Four Seas Interludes, Beethoven's Egmont Overture, and Beethoven's classic Symphony No. 9. When the latter's fourth movement calls for soloists, Wolf Trap's finest up-and-coming opera stars—including soprano Tracy Cox, mezzo-soprano Virginie Verrez, tenor Robert Watson, and bass-baritone Ryan Speedo Green—take the stage to complete a truly dazzling night of classical music.
Diana Ross
Sunday, June 29, 2014 at 8 pm
The supremely talented Diana Ross is gracing the stage with her unrivaled charisma and world-famous Motown sound. As the lead singer of The Supremes during the 1960s, Ross helped pioneer the crossover movement that broke down racial divides in the music industry by releasing universally successful hits such as "Baby Love" and "Stop! In the Name of Love." Ross kicked off her solo career in 1970 with the celebrated classic "Ain't No Mountain High Enough" and has continued to rack up No. 1 singles, accumulating 18 such hits over her illustrious career. An inductee of the Rock and Roll Hall of Fame and recipient of a Grammy Lifetime Achievement Award, Ross has been cited as an icon and inspiration by countless artists from the 1960s to present.
Video: Diana Ross: Live In Central Park – "I'm Coming Out"
Tickets can be purchased by calling 1.877.WOLFTRAP or online at wolftrap.org. For more information, call Wolf Trap at 703.255.1900.
High-resolution images of the artists listed are available on Wolf Trap's website: wolftrap.org/Media_and_Newsroom/Photos_for_Publication.aspx.
Wolf Trap is Metro accessible!
Our environmentally friendly Wolf Trap Express Bus travels from the West Falls Church Metro stop every 20 minutes starting two hours prior to show time. For details, please visit wolftrap.org/Plan_Your_Visit/Access_by_Metro.aspx.
###