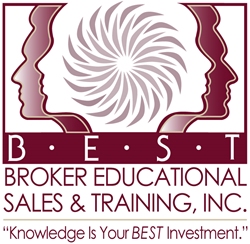 ...you must prove your compliance with mandatory LTC insurance training to your carrier...
New Port Richey, FL (PRWEB) June 03, 2014
BEST presents its nationally approved and ClearCert certified NAIC 4-Hour Long-Term Care Insurance continuing education training course. This course will assist licensed insurance producers in meeting their LTC renewal requirement.
Insurance producers must be licensed properly in order to sell insurance in the jurisdictions where they conduct business. In most states, you must prove your compliance with mandatory LTC insurance training to your carrier - not the state department of insurance. Be sure you receive ClearCert credit for course completions to gain - or maintain - your certification to represent long-term care insurance.
States mandate LTC insurance producers must complete an initial eight (8) credit hour, one-time LTC course, and a four (4) credit hour ongoing LTC course every compliance period thereafter. (Newly licensed resident producers are required to satisfy the LTC one-time, initial 8-hour training requirement prior to selling LTC insurance.)
To assist insurance producers in meeting their state's and the NAIC's ongoing renewal requirement, BEST is offering its NAIC 4-Hour LTC Insurance continuing education training course. The course is offered online and is available anytime, anywhere.
Topics covered in the course are:

Understanding Long-Term Care
Long-Term Care Services and Facilities
Who Pays for Long-Term Care
Medicare
Medicaid
Long-Term Care Insurance
Long-Term Care Insurance Policy Design
Long-Term Care Provisions, Benefits and Suitability
Long-Term Care Insurance Partnership Policies
Massachusetts Producers: Effective January 23, 2013, all producers currently licensed to sell, solicit, or negotiate long-term care products in Massachusetts must complete a one-time state approved training course of at least 8-hours by July 1, 2014. Producers licensed on or after January 23, 2013 must complete this training prior to selling, soliciting, or negotiating such products. After completing the initial 8-hour LTC training requirement, producers must then complete a 4-hour ongoing training course every 24-months thereafter. Click here to order the MA initial 8-HR LTC course.
About Broker Educational Sales & Training Inc.
Broker Educational Sales & Training Inc. (BEST) is a nationally approved provider of continuing education for the financial and insurance professional and advanced training programs for the Certified Financial Planner (CFP), Investment Management Consultants Association (IMCA), and to the mutual fund, financial and insurance services industry. BEST conducts and administers over 500 continuing education classes throughout the country, which on average are attended by over 61,000 insurance agents, accountants and lawyers annually. BEST also conducts national symposiums and seminars with an average attendance of over 100 financial and insurance professionals throughout the country.