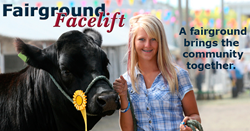 On behalf of Grinnell Mutual, we thank participants for their involvement in The Fairground Facelift..your participation celebrates the role of the local fairground in bringing communities together
Grinnell, Iowa (PRWEB) May 29, 2014
Grinnell Mutual Reinsurance Company is happy to announce the fairground improvement projects that won grants through The Fairground Facelift contest. Based on votes from Facebook users, Grinnell Mutual will distribute grant funding to the following fairgrounds: Scotts Bluff County Fairgrounds in Mitchell, Neb.; Putnam County Fairgrounds of Unionville, Mo.; and White County 4-H Fairgrounds of Reynolds, Ind.
"On behalf of Grinnell Mutual, we thank participants for their involvement in The Fairground Facelift. Whether you submitted a local fairground project for consideration or voted for a project finalist, your participation celebrates the role of the local fairground in bringing communities together," said Grinnell Mutual Director of Advertising and Community Relations Barb Baker.
Grinnell Mutual received 110 project submissions from 10 Midwest states. More than 4,400 Facebook users voted for their favorite project among the 10 finalists. The three grant recipients were chosen based on the number of votes received.
Scotts Bluff County Fairgrounds will receive $2,000 to create an indoor livestock wash rack in an existing building on the fairgrounds. Currently, the fairground hosts three progress shows, a beef clipping clinic, and an American Kennel Club show, in addition to the county fair.
"Last year the Scotts Bluff County Ag Society built a new livestock pavilion, an enclosed show barn that serves a variety of functions for livestock, auctions, and dog shows," said Thomas Jenne, secretary of the Scotts Bluff County Ag Society. "We had talked about enclosing an existing wash rack, but the costs were astronomical. This $2,000 grant will go a long way to get the fairground ready for events this winter."
Putnam County Fairgrounds will receive $1,000 to cover the open-sided sheep and cattle barns with louvered metal, protecting both livestock and junior exhibitors from sun, rain, and wind, while allowing for ventilation in the barns. This project is one in a series of volunteer-led improvements on the fairgrounds as part of the fair's 75th anniversary celebration.
"We put the louvered metal on the poultry and rabbit barn last year on two sides. It went over very well," said Anna Watt, board member of Putnam County Fairgrounds. "Livestock has always been the backbone of our fair. It's the main event. If it wasn't for our livestock auction at the end, supporting our youngsters, we wouldn't have a fair."
With its $500 grant, White County 4-H Fairgrounds will replace the bleachers in the arena with those in compliance with ADA regulations to welcome all 4-Hers and visitors to the shows.
"The arena is the main building on our fairgrounds, but the bleachers aren't meeting the needs of everyone," said Kim Stockment, board member of the White County Ag Association. "We're going to make them accessible to all of our fairgoers. I think the fairgrounds mean a lot to people in our county and it's a place where people look to gather, see old friends, and share their love of agriculture each summer."
Grinnell Mutual hosted The Fairground Facelift contest on its Front Porch, a community page on Facebook and Twitter where people join in conversations about life in the country and on the farm. To learn more about Grinnell Mutual's Front Porch, visit http://www.grinnellmutual.com/content/front-porch-blog/.
About Grinnell Mutual
Grinnell Mutual Reinsurance Company, in business since 1909, provides reinsurance for farm mutual insurance companies and property and casualty insurance products through more than 1,600 independent agents in 12 Midwestern states. Grinnell Mutual is the 123rd largest property-casualty insurance company in the United States and the largest primary reinsurer of farm mutual companies in North America.