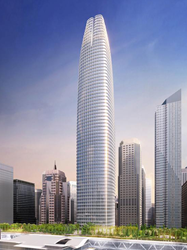 This will more than double the number of high-rises in the South of Market Area and increase the number of San Francisco high-rises by nearly 40%.
San Francisco, California (PRWEB) June 03, 2014
HomesSF.com, a website for luxury residential Real Estate in San Francisco reported on May 30, 2014, that a vibrant new city of urban high-rises is emerging at a fantastic pace in San Francisco's South of Market Area.
According to HomesSF.com, in a South of Market Street Area (SOMA) that is less than 1 square mile, 16 high-rise buildings are in various stages of development. For the report, HomesSF.com included only buildings with a minimum height of 400 feet. HomesSF.com compiled the report based on data from Wikipedia, sf.curbed, and Skyscraperpage.
The 16 buildings in development will more than double the number of high-rises in the South of Market Area and increase the number of San Francisco high-rises by nearly 40%.
HomesSF.com points out the significance of this level of development in SOMA. It took 60 years to develop 21 high-rises in the financial district; SOMA will have eclipsed this number in less than 20 years. 16 of the buildings will have been constructed in the most recent 8 year period (anticipated through 2019.)
Two of the buildings will be taller than the Transamerica Pyramid, currently San Francisco's tallest building at 853 feet; the Transbay Tower at 1070 feet and 50 First Street Tower One at 915 feet. See LISTINGS for The Top San Francisco Urban Residential Properties.
High-rise development was initially concentrated in the financial-district and it took until 1970 to build just 7, 400 foot high-rises. In the 70s and 80s, an additional 15 were built in the financial district. No high-rises have been developed in the financial district since then and only one project is currently proposed.
By the 70s, high-rise development had started moving toward Market Street and the South of Market Area. In the 70s, 8 high-rises were built on Market Street and 2 in the South of Market Area. 4 high-rises were built South of Market in the 80s. There were no high-rises developed in San Francisco in the 90s.
The only high-rise development since 2000 has been South of Market, where 7 high-rise buildings were completed and 8 are under construction. An additional 8 high-rise buildings have been proposed in SOMA and are in various stages of development.
HomesSF.com reported that the style and magnitude of development in SOMA adds a new face and character to San Francisco. SOMA will be further citified, dense, and vibrant, with plenty of urban-intensity; something that the rest of San Francisco is not. Yet given it is San Francisco, there is no better city to welcome the diversity and no better city to incorporate that alternative urban style of life.
You can read an extended article on high-rise construction in San Francisco's SOMA District at http://www.HomesSF.com.
Peggy Economos and Kirk Economos are luxury residential property specialists with Pacific Union International, Christies International Residential Real Estate at their Presidio Offices in San Francisco. They are a wife and husband team that brings together complementary skill sets and decades of experience.
Their website HomesSF.com offers a wider perspective than just the local San Francisco luxury market. It offers information on the San Francisco market as well as news, insight and information on national and global high-end properties and markets.
For buyer and seller representation or real estate information in San Francisco or for a qualified luxury property agent referral in your specific area contact: Peggy and Kirk Economos, http://HomeSF.com, (415) 271-6390.