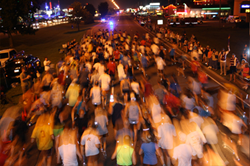 "Instead of just coming to run, we hope you'll stay awhile."
Pigeon Forge, TN (PRWEB) June 04, 2014
PigeonForge.com and the Knoxville Track Club have teamed up to present the annual PigeonForge.com Midnight 8K run, taking place August 2, 2014, in Pigeon Forge, Tennessee. This is the fourth consecutive year the organizations have worked together on this annual event.
What makes this race special is its midnight start time and fast, flat course. Additionally, this year the Pigeon Forge Midnight 8K is a state championship race for the 8K distance for the Road Runners Club of America.
"I look forward to this race every year," PigeonForge.com owner Jessica Bookstaff Doppelt said. "The course is even and flat, there is a buzz in the air, and it's great to see so many regional and visiting runners get involved."
Participants will line up at 11:50 p.m. for the midnight start. The race course takes runners down the Pigeon Forge Parkway, giving them up close views of the neon lights and attractions with the beautiful Great Smoky Mountains serving has the backdrop.
Doppelt suggests that racers turn the experience into a mini-vacation.
"Instead of just coming to run, we hope you'll stay a while," she said. "The Great Smoky Mountains have so much to offer the active set, from adrenaline-pumping whitewater rafting to state-of-the-art zipline experiences. It's the perfect place to work up a sweat while having a great time."
Early registration for the PigeonForge.com Midnight 8K race costs just $20 and will close on July 15. Registration from July 15 through July 23 is $25. Race Day Registration is $30. Online registration link available at ttp://www.ktc.org or go directly to ttp://www.active.com and search for Pigeon Forge 8K. Registration includes a short-sleeve T-shirt and post-race pizza party.
For additional information about the race, visit http://www.pigeonforge.com/PigeonForge-com-Midnight-8K.
###
About PigeonForge.com:
Jessica Bookstaff Doppelt has helped thousands of people plan Smoky Mountain vacations since she launched PigeonForge.com in 2000. She grew up in Pigeon Forge and consider the Great Smoky Mountains her home. She is happy to share all the great things about the area and help you enjoy a perfect getaway through her website where you can easily browse lodging, attractions, restaurants, wedding information and more. For additional information, visit ttp://www.PigeonForge.com.