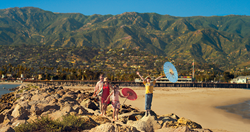 Santa Barbara, CA (PRWEB) May 29, 2014
This summer, Santa Barbara invites families to not only experience the town, but interact with the destination as well. Santa Barbara is a hands-on adventure hotspot that offers its visitors a chance to participate, creating an experience that an entire family can hold on to.
Families can start with the newly opened exhibit at Santa Barbara Museum of Natural History's Butterflies Alive!, which features live animals with over 1,000 butterflies to captivate and enchant guests of all ages. The Santa Barbara Museum of Natural history also invites inquisitive minds to view a complete Blue Whale skeleton – one of only five in the entire United States. The Santa Barbara Zoo, located on 30 acres of botanic gardens overlooking the Pacific Ocean and home to 500 creatures, is a great location for children to intermingle with nature and feed one three of the resident giraffes. Youngsters interested in marine wildlife can make the short trip to the Ty Warner Sea Center for a series of interactive hands-on exhibits where guests can pet small sharks and view illuminated jelly fish. A different interactive experience is offered at Carpinteria's Tomol Park, complete with lifelike animal statues and replica Chumash village for children to create their own adventures.
In Santa Barbara, getting around town even becomes an interactive family activity when the car is ditched and replaced by a surrey or pedi-cab. Bike rentals provide a smart and economic alternative to motor vehicles and makes it a breeze going from one activity to the next. Those looking for a more aquatic experience can choose a water taxi. For a small fee, visitors can hop aboard the Lil' Toot and take the trip from the Santa Barbara Harbor to Stearns Wharf. With so many ways to travel, getting there is half the fun.
With playgrounds and gardens decorating the entire town, Santa Barbara offers a place for fun among nature's best. The Santa Barbara Botanic Garden hosts a spectacular array of flora and offers guests a 78 acre property to explore and discover flowers, bees, and other creek critters. Children looking to climb and conquer can visit Kids World, located at Alameda Park. Kids World, known for its wood architecture is a great place for children to become the king of the castle. Santa Barbara is also home to a working antique carousel at Chase Palm Park, where for only $2 riders can choose a pony and enjoy the surrounding scenery.
A trip to Santa Barbara isn't complete without a fun, all ages allowed, beach outing. Every beach in town offers a unique experience with long lasting memories. Arroyo Burro Beach, known to locals as Hendry's Beach, offers a quiet escape where pets are known to run free off leash to make new friends. Volleyball nets at East Beach provide some time to practice the perfect serve, while West Beach is home to Stearns Wharf where visitors might see a fisherman bring in his catch of the day. Overlooking the Pacific Ocean is Shoreline Park, a quaint location to have an afternoon picnic beside an ocean themed playground. El Capitan State Beach allows families to camp alongside the water, with crashing waves lulling happy campers to sleep. Families looking for a beautiful sunset after an eventful day can visit Butterfly Beach and enjoy Santa Barbara's twilight colors. No matter what location is chosen, good times will be had by all.
This summer, Santa Barbara makes kid friendly vacations come to life.
ABOUT SANTA BARBARA
Featured on the cover of Travel + Leisure in May 2013 and voted Best Getaway by L.A. Times Readers' Choice Awards in 2012, Santa Barbara is located just 92 miles north of Los Angeles and 332 miles south of San Francisco, on the Pacific coastline. Visitors can arrive via scenic Highway 101, train, bus or by flying into Santa Barbara Municipal Airport or Los Angeles International Airport. For travel and accommodation information and to request a free copy of the official Santa Barbara County Visitors Magazine, contact Visit Santa Barbara at 800.676.1266, 805.966.9222, tourism(at)santabarbaraca(dot)com or SantaBarbaraCA.com. Visitor information is also available at the Visitor Center, 1 Garden Street (at Cabrillo Boulevard).
MEDIA INFORMATION
Stay informed about Santa Barbara news with our Media Center, press releases and blog, TheSBPost.com. Just getting to know Santa Barbara? The Media Field Guide is a great place to start. Planning a research visit? Use the Press Trip Request form to get the process started. Follow us on Facebook and Twitter for daily updates, and visit our Mobile Site for on-the-go information about dining, wine, accommodations, events, attractions and more.