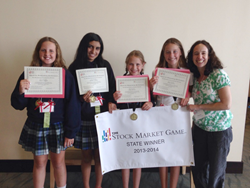 'There is a lot of luck in the stock market,' said Paris, 5th Grade. 'Many things can affect how stocks are doing.'
Owings Mills, MD (PRWEB) May 31, 2014
On May 14, a team of four 5th Grade students at the all-girls' Garrison Forest School (GFS) won the Elementary School division at the 2014 Maryland Council on Economic Education (MCEE) Stock Market Game, a state-wide investing competition for elementary through high school students. The awards were given at the MCEE luncheon at Towson University.
Sponsored by the MCEE, the Stock Market Game has teams of elementary, middle and high school students across Maryland competing in a year-long stock trading/investment simulation. Each group is given $100,000 in fake money to invest. As a team, they research stock, pick and "purchase" their chosen stocks, watching their fortunes rise (or fall). Their performance not only earned them the top spot in their division, but, they bested the winning middle school and high school teams—and they were the only all-girls' team in the statewide competition.
The GFS team earned an impressive $12,099 from their original $100,000 investment, choosing Under Armour, Hershey, Exxon and Chipotle stocks, among others. MCEE luncheon keynote speaker Eric Brotman from the Brotman Financial Group, acknowledged the Garrison Forest team in his keynote as not only winning for their age bracket but also besting the older teams. The GFS team carefully watched their stocks' performance; midway through the game, they sold those stocks not performing well and put most of their money in Exxon and Under Armour. "There is a lot of luck in the stock market," said Paris, one of the team leaders. "Many things can affect how stocks are doing."
"This is the first time our 5th graders have done the stock market competition," notes Dana Livne, 5th Grade teacher, who learned about the program through a financial literacy conference. The entire class participated as part of the 5th Grade's curricular focus on financial literacy, a programmatic pillar of the GFS James Center (http://www.gfs.org/jamescenter). Students enjoyed learning about finance and money first-hand from several financial professionals, in person and virtually, from money-themed books (Pretty Penny series) and by playing the Stock Market Game.
While the majority of the Stock Market Game was done in school—selecting stocks, researching and monitoring investments—the students had digital access to their accounts and had to monitor their progress from home. Each team of students (about four in a group) also had to agree on which stocks to select. Girls learned about stocks, ticker symbols, diversification, risk and return, ratio, the causes of price fluctuation and a balanced portfolio. They interpreted statistics and honed their algebraic thinking and expository writing skills. The game's requirements included an essay based on the stock market and detailing investment choices.
Founded in 1910, Garrison Forest School empowers students to realize their full potential and live lives of purpose. Garrison Forest is an independent, girls' day school, Kindergarten through Twelfth Grade, with a regional, national and international boarding program for girls beginning in 8th Grade, and a coed preschool (Twos through Pre-Kindergarten). In 2009, Garrison Forest was recognized as a Confucius Classroom, the first among Maryland's independent schools. Since 2005, Garrison Forest and Johns Hopkins University have partnered to provide GFS girls with unique, in-depth research experiences in STEM, public health and the humanities in Hopkins' lab and programs through the Women in Science and Engineering (WISE) program. WISE and other experiential programs are coordinated through GFS James Center. Garrison Forest is located at 300 Garrison Forest Road, Owings Mills, MD 21117.