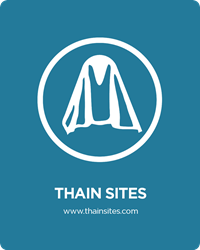 This idea of 'outsourcing innovation' is just another way that small business is helping big corporations adapt and evolve.
Toronto, ON (PRWEB) July 03, 2014
As part of their role in helping small business access smarter and sleeker solutions, Thain Creative recently created their own version of a new mobile-friendly enhancement to a multi-million dollar website platform, who has since chosen to implement for its members.
"We believe that big ideas can come from anywhere, and the idea of 'outsourcing innovation' is just another way that small business is helping big corporations adapt and evolve," said Thain Lurk, Owner of Thain Creative.
After discovering a need for their own small business clients to have easier mobile access to their contact, address and store hours while 'on the go' – Thain Creative created the working concept of a Mobile Information Bar solution that allows the mobile user to directly phone, view map or email the business on the spot with a click of a button. This was available on some other website platforms, but never on Squarespace, until now.
"Because our company deals with small business customers one on one, we get a first-hand look at their challenges, hurdles and use that insight to learn how business transactions and website functions could be made easier for them online."
The trend towards large business working with small business to beef up innovation is nothing new. Bogged down by process and management systems, large corporations often don't have the resources to research and design fresh solutions for real world application.
But with the rise of social media and an increased pressure from consumers and investors to remain relevant, small business owners who understand this relationship can take advantage and deliver their own ideas with great success.
"The collaboration and flexibility that small agencies and entrepreneurs provide, allows larger companies to more quickly adapt to small business needs," said Lurk. "There is great success to be made from understanding this relationship and how to make solutions scalable. In the end, everyone benefits."
Thain Creative will continue to work with companies to provide small business solutions and always strives to create sensible, forward thinking concepts to benefit all business owners.
Thain Creative delivers intelligent solutions for their website, brand and creative design clients. They have the knowledge and experience to make educated decisions for their clients' business solutions. Visit http://www.thainsites.com or contact hello(at)thaincreative(dot)com Media info call: amanda(at)catalystcc(dot)ca.