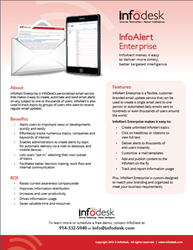 Companies have little to no control over, or insight into, how critical business information is being distributed or consumed internally.
Tarrytown, NY (PRWEB) May 30, 2014
InfoDesk, a leading provider of business information solutions, has introduced a newly enhanced enterprise email alert platform that helps organizations raise current awareness, track content usage, and, most of all, better manage the glut of content alerts. Learn more.
Available immediately, InfoAlert provides centralized content alert monitoring and distribution for all types of Web and subscription content. InfoAlert greatly simplifies content alert management at both the user and enterprise levels.
What's the problem?
Automated news and information alerts, such as Google Alerts and publisher emails, can be a great way for individuals to monitor the Web and other content sources for relevant news and developments.
But with an ever-growing number of content alerts available from all types of information providers, trying to keep up with more than a handful of alerts can easily become an unwieldy task for most users.
For many companies and other organizations, this problem is compounded exponentially, creating what one CIO recently called "a content alert nightmare."
"The truth is, many organizations simply don't have a centralized way to consolidate and distribute all of their information alerts effectively," said Lynn Epstein, InfoDesk COO. "Consequently untargeted, duplicative news alerts are inundating many of their employees."
"As a result," added Epstein, "the companies have little to no control over, or insight into, how critical business information is being distributed or consumed internally."
What's not working?
The problem with content alerts for information users is "usually they are left to figure it out for themselves," said Epstein. In other words, they are responsible for finding, choosing and managing their own content alerts. Without proper support, some users will receive too many alerts, from too many providers, while others will get none at all.
Further, inexpert users who have to manage multiple alerts from multiple providers can never feel confident they are getting all the information they need.
Even organizations that try to consolidate and manage content alerts for their employees are faced with a big challenge. "Simply put," said Epstein, "building and maintaining a centralized, automated content alert platform can be very time-consuming and costly."
What it's costing?
Studies estimate that knowledge workers spend over 28 hours per week looking for information online and writing emails [McKinsey]. Yet more than 60% still report that they don't feel like they have the information they need to do their jobs.
According to Epstein, organizations that don't have a simple way for users to subscribe to and manage all their content alerts "are making them work harder and getting less done." Not only that, it's costing many organizations hundreds of thousands of dollars per year in wasted time and lost productivity.
In addition to wasted time, many businesses spend a considerable amount of money to license content that may not be used at all. "Without effective alerts," said Epstein, "you can bet it's not."
What's the solution?
InfoAlert Enterprise addresses all of these issues with a single off-the-shelf solution that consolidates, manages and automatically distributes all of an organization's information alerts internally. Plus, InfoAlert provides tracking reports that affords critical insight into overall content consumption and usage patterns.
For users, InfoAlert is a dream come true. InfoAlert makes it easy for users to pick and choose which alerts they want. Users can also select the frequency of the alerts and change their preferences at any time. Best of all, they can rest assured knowing that they are receiving the most up-to-date content alerts on the topics that matter to them.
For CIOs and other administrators, InfoAlert ends the content alert nightmare. They no longer need to worry about building and supporting an alert platform—InfoDesk takes care of it all. Plus, monthly usage reports help guide decision making and content purchases.
Why choose InfoAlert?
Unlike other content alert solution providers, the InfoAlert platform is "content neutral," so it can consolidate content alerts from any publisher, source or provider.
Over the past fifteen years InfoDesk has built one of the largest, most responsive content provider networks in the industry. InfoDesk's network allows them to integrate more content sources more quickly and more cost effectively than anyone else.
Finally, InfoDesk's knowledgeable team of business information specialists fully supports all of its clients' needs—from gathering requirements, alert selection and taxonomy development to launch and promotion.
To learn more about InfoAlert, please contact InfoDesk to speak with a content alert specialist at US: 1.914.332.5940 or UK: +44 (0) 20.8350.3398 or click here to download more information about InfoAlert.
What is InfoDesk
InfoDesk (http://www.infodesk.com) is a business intelligence platform that helps organizations manage, deliver and share all of their content resources. For more than 15 years InfoDesk has helped some of the largest multinational corporations, top government agencies and media companies maximize their information resources. InfoDesk is based in Tarrytown, NY with offices in London and Washington DC.