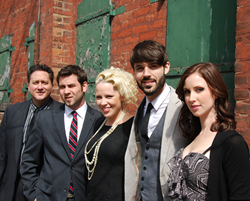 An unforgettable combination of [crazy] beatboxing, sassy rapping, killer harmonies, and fresh, urban, RnB-influenced compositions.
Cleveland Heights, Ohio (PRWEB) May 31, 2014
Call it superstition, call it luck, call it a roll of the dice, but whatever you call it, Canadian a cappella quintet EH 440 (a play on the musical pitch standard A440, which has a frequency of 440 Hz, and serves as a general tuning standard), must have it in spades. They're bringing their lucky voices across the Great Lakes to Cain Park's Evans Amphitheater on Friday, June 13, at 8 PM. Homegrown harmonizers, The Heights High Barbershoppers, who won first place in the nation in the International Youth Chorus Barbershop Festival, are special guests.
Tickets for this concert are $15 in advance and $18 the day of the show; they can be purchased via Ticketmaster (800-745-3000) or by calling the Cain Park ticket office (216-371-3000) as of May 31. Cain Park is located at Lee Road and Superior Road in Cleveland Heights.
Having pulled together their cumulative skills and experience, Eh440 pitched themselves on CBC's Dragons' Den, something like a Canadian version of ABC's Shark Tank (both shows feature "Mr. Wonderful," Canadian business mogul Kevin O'Leary), the Toronto-based singers and their beatboxer won themselves enough backing and press to yield a debut album, Turn Me Up, which was released May 27. Eh440 combines five people from five very different backgrounds: Joe Oliva's been a low bass singer his entire life, Luke Stapleton—aka "Human Record"—is an urban beatboxer, Janet Turner identifies as a country/pop singer, Stacey Kay takes care of soul and pop, and musical chameleon Mike Celia cites blues, folk, and "anything with a good groove" among his influences. After coming together through the Toronto Independent Music Awards and mutual musician-friends, Eh440 was born. Together they form "an unforgettable combination of [crazy] beatboxing, sassy rapping, killer harmonies, and fresh, urban, RnB-influenced compositions."
Local extracurricular singers The Heights High Barbershoppers, under the direction of Craig McGaughey, who have won national acclaim, are also appearing on the bill. These dedicated, enthusiastic and energetic young men are working to keep barbershop music alive in the hills—and dales—of greater Cleveland. This concert is supported by 91.3 The Summit.
Cain Park 2014 season sponsors include Cuyahoga Arts & Culture, Ohio Arts Council, Severance Town Center, Intercontinental Hotels – Cleveland, and Motorcars Honda/Toyota/Scion.
Cain Park, a municipally owned and operated summer arts park and one of the nation's oldest landmark outdoor theatres, celebrates its 76th season in 2014. Cain Park is produced by the City of Cleveland Heights and is located on Superior Road between Lee and South Taylor roads.