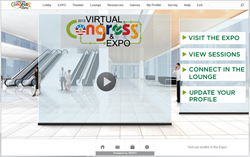 Our attendees had nothing but great things to say about every area: the sessions, the videos, the graphics, the booths, and the games.
Chicago, Il (PRWEB) May 30, 2014
American Payroll Association (APA), the professional society for payroll professionals, earned first place honors for "Best Virtual Event" for its 2013 Virtual Congress & Expo at the 2014 FAME Awards in New York City in April. APA's virtual event was hosted on INXPO's platform.
The award, recognizing the best in virtual events produced by a publisher, recognized APA for delivering high impact Live and On-Demand video presentations, including live chat, Q&A, interactive games and surveys, and a virtual expo to interact with vendors.
"The event had the perfect ingredients for executing a successful virtual event," said Matt Goodwin, Sr. Account Executive for INXPO. "Our platform delivers an unmatched interactive virtual experience for audiences."
APA's 2013 Virtual Congress & Expo saw over 2,000 attendees participate along with 7 vendors during the one-day virtual event.
"2013 was the second year we've partnered with INXPO for this event," said Susan Garcia, Solutions Manager for the American Payroll Association. "Our attendees had nothing but great things to say about every area: the sessions, the videos, the graphics, the booths, and the games. They loved it, especially those who couldn't attend our five-day live event, which was held the week before our virtual event. But it wasn't mutually exclusive -- many of our live participants also attended the virtual event."
Virtual Congress & Expo allows participants to earn continuing education credits that payroll professionals need to maintain their Certified Payroll Professional (CPP) designation, the payroll industry's premier professional qualification. INXPO's reporting system was used to validate a minimum viewing time necessary for a participant to receive credits. For instance, viewers who watched only a portion of a workshop did not receive credit for that workshop.
Along with attending workshops and completing surveys for RCH's, attendees could earn badges for completing certain activities such as actively participating in one of the virtual break out rooms or playing a interactive game.
"The trivia game kept our attendees engaged," said Garcia. "During breaks, the game held their attention and served as a nice bridge into the next session."
About APA
The American Payroll Association is the nation's leader in payroll education, publications, and training. The nonprofit association conducts more than 300 virtual and live training conferences and seminars each year, and publishes a comprehensive library of resources and newsletters. Every year, nearly 20,000 professionals attend APA educational events. Visit APA online at http://www.americanpayroll.org.
About INXPO
INXPO's Online Events, an award-winning platform, gives you full and self-service options for creating stimulating, measurable and secure online events that can be distributed to a global audience.
Serving more than 3,000,000 audience members globally, INXPO's Online Events solution is robust enough to exceed your technology requirements, but interactive and flexible enough to meet the needs of your audience.
To learn more about how INXPO can fit into your organization's communications strategy please visit http://www.inxpo.com, email us at contactsales(at)inxpo(dot)com, or call us at (312) 962-3708.