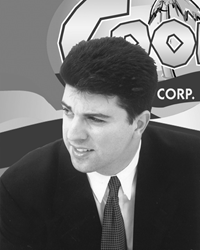 Jamaica needs to increase the number of commercial banks in order to have a more competitive banking environment
(PRWEB) June 02, 2014
As the Jamaican Cabinet deliberates on the recently-submitted report by the central bank on the high banking fees in the financial market, Chairman of the Cool Group of Companies and former bank director, Joe Issa, says in an interview that the authorities should encourage more banks to establish, in order to have a more competitive banking environment with cheaper and better products and services.
Issa's statement stems from a brewing controversy started by a Bank of Jamaica (BoJ) revelation, that as much as 23 cents out of every dollar earned by Deposit-Taking Institutions (DTIs) represent fees and charges, which in 2013 amounted to over $18 billion. (Jamaica, 2013)
The public outcry which ensued, with some calling for the BoJ to put a cap on bank fees, had led to a Parliamentary request for a full report, which is now in the hands of the Cabinet. The BoJ Report on Survey Fees and Charges of DTIs as at October 31, 2013 was finalized on March 14, 2014.
"I don't believe capping bank fees is the best solution, I'd rather leave it to the free market to determine; that's why I believe that in order to have cheaper banking products and services, there must be more competition in the financial sector and that means more banks," says Chairman of the Cool Group of Companies and former bank director, Joe Issa.
In an interview with BoJ Governor, Brian Wynter, he would not disclose whether there are any applications pending for banking licenses. However, he says "there is no limit to the number of banks which the system can accommodate" and that "competition is healthy."
Assuring that there are no impediments to entry into the banking market, Wynter says "there are some niche products and services one can compete in," stating however, that "you have to first meet the requirements of the Banking Act and the BoJ Act," which set the terms and conditions of the license, including the required prudential reserves.
The argument for more commercial banks is strengthened by BoJ figures which, as at August 2013, showed that while the six banks operating in Jamaica represent just 50 per cent of the country's 13 DTIs, their share of total assets was a mammoth 94 per cent or $717 billion. Moreover, while the number of commercial banks in 2013 remains the same as in 2006, their asset base has increased by over 67 per cent over the period.
Also, of the six commercial banks only two - National Commercial Bank and First Global Bank - are local, while the remaining four banks - RBC Royal Bank, Citibank N.A., Bank of Nova Scotia and CIBC FirstCaribbean International Bank – are foreign.
Even with the rebranding and expansion of a Caribbean bank Sagicor, late last year, Issa says such concentration of big banks does not allow for the appropriate level of competition that would effect a price reduction in their products and services, unlike the period before the mid-1990s banking crisis, which set off the consolidation trend from 13 commercial banks.
Issa, a past student of the renowned London School of Economics in the United Kingdom, says this increase in market concentration has significant implications for the level of competition in the commercial banking sector, as well as the welfare of customers.
"With so few commercial banks in the market competition is typically oligopolistic and as such, they tend to compete not by lowering prices but by differentiating their products and services, making them appear to be better or superior than those of their competitors, and this does not benefit consumers," he says.
Such non-price competition, he argues, is just a marketing strategy supported by much advertising, sales promotions, market research, new product development and brand management.
So the question arises: Have customers benefited from having fewer banks or less competition? Issa believes that with more banks competing, this promotes the delivery of high quality, cost-efficient products and services, which is a win-win for all stakeholders.
He says rather than creating a differential advantage, commercial banks should instead try to develop a comparative advantage, or cost advantage, by producing at a lower cost than their competitors, which gives them the ability to sell at a lower price for the benefit of customers.
"In the long term a more efficient Jamaica will translate to a richer populace, which means more business and higher returns for the banking sector. A win win for both the banks and the consumers," Issa says.
References
Jamaica, B. o. (2013). Interim Report on "Survey of Fees and Charges of Deposit-Taking Institutions" as at 31 October 2013. Retrieved from http://www.japarliament.gov.jm/attachments/1173_Interim%20Report%20on%20Fees%20and%20Charges%20Survey%20as%20at%20Oct.%202013.pdf
Nation News. (2014, January 15). Talks on Jamaican bank fees. Nation News. Retrieved from http://www.nationnews.com/articles/view/talks-on-jamaican-bank-fees/
The Gleaner. (2014, January 15). Bank Fee Boom - Report Shows 30% Hike In Income From Service Charges. The Gleaner. Retrieved from http://jamaica-gleaner.com/gleaner/20140115/lead/lead1.html
The Gleaner. (2014, January 22). BOJ to compare local bank fees with region by April. The Gleaner. Retrieved from http://www.jamaicaobserver.com/business/BOJ-to-compare-local-bank-fees-with-region-by-April_15839817
The Gleaner. (2014, February 7). Calls for BOJ to be more aggressive in bank fee probe. The Gleaner. Retrieved from http://www.jamaicaobserver.com/news/Calls-for-BOJ-to-be-more-aggressive-in-bank-fee-probe_15958036