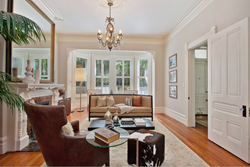 The goal is to spend the least of money possible in order to maximize seller profit.
San Francisco, California (PRWEB) June 10, 2014
Historically sales have dipped slightly in San Francisco in the summer, but proper preparation ensures homes stand out from the competition, no matter what the season. Ruth Krishnan, top San Francisco realtor, shares tips to help sellers get top dollar for their homes. "The goal," says Krishnan, "is to spend the least of your money possible in order to maximize your profit."
"Typically the seller is responsible for the home maintenance and staging part of the sale. The realtor covers print and online marketing and photographs," says Krishnan. "Staging is bringing in furniture, art, and accessories that help buyers imagine themselves in the home."
"On average, sellers in the $1 - $2 million category spend around $20 - $25,000 prepping and staging for a sale," says Krishnan. As homes get larger and more expensive, the costs go up proportionately.
"It's a common mistake to focus too much on what you are paying and too little on what you're making because," says Krishnan, "especially in slow markets, or competitive markets like the San Francisco housing market, investing in your home really pays off in terms of faster, more profitable sales — generally a 5% increase in sale price."
"Sellers and buyers alike often tell me that they're not affected by staging," says Krishnan. "However, if you walk a buyer through an empty house after they've seen the staged, they will always tell you how different they think it looks. Just the other day I did a walk-through with a buyer who commented on how much smaller the dining room looked without furniture!"
"Stagers," adds Krishnan, "use intentionally smaller furniture to make a room look larger. A good staging job on average 1,500 square-foot home will run anywhere between $6,500 - $9,000."
A good realtor who understands his or her local market helps sellers use stagers most effectively. "Stagers often like to make things interesting by staging things as kid's bedrooms or offices," says Krishnan. "My experience in San Francisco shows that, even though it might be boring, you maximize profit by fitting the largest bed possible into every room that could be used as a bedroom. The value of a kid's room or an office is significantly less than that of a bedroom."
"The number one factor that makes a huge difference is painting," says Krishnan. "Whether you think so or not, your home should be painted inside and out. New paint makes homes look shiny, brighter, and newer. Spending a few hundred dollars to get your home professionally cleaned, including window-washing, is key to selling your home."
There are simple and effective ways to prepare homes for sale in every budget category.
"For higher high-end homes, those above $1.3 million, staging with professional quality contemporary art makes a big difference," says Krishnan. "For less expensive homes or for those who cannot or do not want to hire a stager, make sure that, if nothing else, you clear your home of as much clutter as possible, paint the walls, and remove all personal items."
"What people need to understand," says Krishnan, "Is that everyone can improve the desirability of their homes -- no matter what the season or their local economy -- by spending the time and or money to make their homes appealing to buyers."