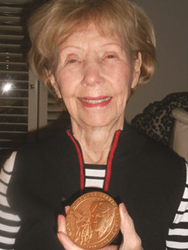 There's got to be a way I can help us win
Riverside, CA (PRWEB) May 30, 2014
In 2009, President Barack Obama signed legislation awarding the WASPS the Congressional Gold Medal. Margot was awarded this prestigious and well deserved award in March 2012.
War was raging in Europe and the Pacific and as the death toll mounted and more men were sent overseas, women pilots were needed. Margot, a Massachusetts native, said she wanted to become a WASP after reading an article in the Boston Herald, saying "There's got to be a way I can help us win."
Margot was 22 when she took the train from Boston to Sweetwater, Texas, for the seven month training. After graduating, she flew the AT-6, a single-engine advanced trainer aircraft, from factories to military training bases in California, Arizona and New Mexico.
In December 1944, the WASPs were disbanded. "They came and told us goodbye," she said. "The men were coming back and wanted their jobs back."
For more than 30 years WASPs were denied military veteran status and did not receive benefits. In 1977, President Jimmy Carter signed a bill granting them full military status.
Margot now resides with her husband Chuck at AF Village West in Riverside, CA. She exercises regularly and tends to her rose garden.
Thank you for your service Margot!