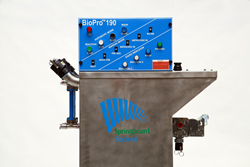 This machine represents what we believe is the best small-scale biodiesel processor on the market.
Chico, CA (PRWEB) May 30, 2014
Springboard Biodiesel, a California-based equipment manufacturer, celebrated six years of biodiesel equipment production on Wednesday with the release of "True Blue 190™", a biodiesel processing appliance that converts used cooking oils into biodiesel fuel, automatically.
The BioPro™ line of biodiesel processors were first manufactured and sold by Springboard Biodiesel in May of 2008. Since then, "The Network" of equipment has found its way into 23 countries and all 50 states. A list of notable customers includes well-known restaurants, more than 72 US colleges and universities, car companies, and federal prison and military installations.
If a business can collect its used cooking oil for free, the total cost to make this diesel-replacement fuel is 95 cents per gallon. 95 cents is the cost of all the other inputs, including electricity, required to convert the oil into fuel. Once the appliance has made the conversion, this cleaner-burning fuel can be pumped directly out of the BioPro™ and into a diesel engine. No engine modification is required.
To celebrate the six-year milestone, and to differentiate machines made in 2014 from any other year, the company announced that it will now be selling machines with an optional "True Blue 190™" powder coated exterior throughout the remainder of the year, and will be offering them with free shipping to anywhere in the US through June 30th.
Mark Roberts, the company's CEO, said in a statement, "For six years, we've been listening to our customers feedback and upgrading our equipment and now, in 2014, this machine represents what we believe is the best small-scale biodiesel processor on the market."
Roberts adds, "If you are a school or a restaurant chain or a military base and you have been paying attention to the multitude of scientific reports outlining the impacts of climate change, you have a golden opportunity to make a difference and save money at the same time."
According to a report by the California Air Resources Board, biodiesel made from used cooking oil emits 90% less CO2 and about 50% less particulate matter than regular diesel.
Springboard Biodiesel has recently diversified its sales with the opening of a local fuel production facility capable of making 1500 gallons of fuel per day for local consumption. This new division will both showcase the company's newest small-scale biodiesel production system, the CLL 1500, and enable the company to sell ASTM-grade B-100 to local businesses and individuals.
About Springboard Biodiesel:
Springboard Biodiesel is a clean-tech biodiesel equipment manufacturer based in Chico, CA. For six years, the company has been manufacturing and selling small-scale biodiesel processing equipment, under the brand names BioPro™ and SpringPro™, to institutions and businesses that can gain access to used (or virgin) vegetable or animal oils. Springboard's appliances enable the production of ASTM-D6751 grade biodiesel for a fraction of the cost of the regular diesel it replaces.
With the help of a grant from the California Energy Commission, the company opened a biodiesel production facility on May 1, 2014. The facility produces from locally collected used cooking oil, for sale to local diesel/biodiesel users.