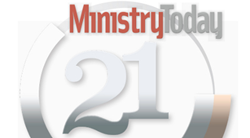 It is my wish that this special issue of Ministry Today will not only bless all ministerial leaders, but will also be a blessing to he communities and the world in which they serve.
LAKE MARY, FL (PRWEB) May 30, 2014
Charisma Media has launched a new award called MinistryToday21, which recognizes 21 churches and ministries that are most influencing the 21st century. Ministry Today magazine has announced its list in its special May/June issue.
Entries on the list range from local churches that are using innovative means to advance the gospel and demonstrate the life-changing power of God to specialized parachurch ministries that focus on things like restoring marriages, caring for the needs of the downtrodden and discipleship training.
"All of these have become models for others to emulate in the ministry world today," said Ministry Today's managing editor, Shawn Akers. "We want everyone to know, however, that this is not a list ranking the 21 best churches or ministries in the United States. The Ministry Today 21 was created as a resource for pastors and ministry leaders from which to glean ideas that could possibly enhance their own kingdom efforts."
Ministry Today's core values are not simply to play up the biggest and the best, Akers added. However, the publisher believes ministries and churches should be recognized for being godly examples and models for others.
"This special issue of Ministry Today was created not to promote one church or ministry over another, but to show all ministerial leaders how God is glorified through these effective and successful organizations," said Charisma Media CEO and Ministry Today publisher Steve Strang. "We're confident that the 21 ministries and churches we chose do simply that. Other churches throughout the world certainly can learn from their example."
Since its publication, the May/June issue has received a great deal of positive feedback from pastors and ministerial leaders throughout the nation.
"I received my copy of the new Ministry Today magazine, and it is great," said Jimmy Evans, co-founder of MarriageToday in the Dallas, Texas, area. "Thank you for including us in this, it is truly a great honor. And, I really believe this magazine will be of great benefit to pastors receiving it."
"It is my wish that this special issue of Ministry Today will not only bless all ministerial leaders, but will also be a blessing to the communities and the world in which they serve," Akers said. "I am proud to partner with these ministries and churches in reaching the world for Jesus, and I look forward to highlighting other worthy ministries in future issues."
Click here to read a list of the 21 ministries featured on the list. You can also read more about each ministry in the print magazine or online at MinistriesToday.com.
Ministry Today is one of several periodicals published by Charisma Media of Lake Mary, FL. Other magazines include the company's flagship publication, Charisma, and Christian Retailing. In addition, Charisma Media's book group, now called Charisma House, has grown rapidly in recent years with 10 books on the New York Times best-sellers list and has become the largest part of the company. The Spanish group, called Casa Creación, was the fastest-growing part of the organization in 2009. And the company is moving boldly into digital products that include a free Charisma News app, electronic books, many e-newsletters, a robust website and digital editions of its magazines that have readership in the top tier of digital magazines nationally.