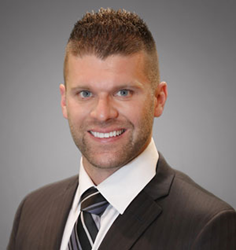 "I am honored to receive this award," said Andy Warnock. "I grew up with two philanthropic parents who provided me with guidance on how to live a successful professional, post-graduate, family centric life."
Dallas, TX (PRWEB) May 29, 2014
RED CAPITAL GROUP, LLC announced today that multifamily banker Andy Warnock is a 2014 recipient of Columbus Business First's Forty Under 40 Award. The longest-running program at Business First, Forty Under 40 is in its 22nd year and recognizes young "movers and shakers" in the community. The 40 honorees, who are under the age of 40, are judged on their community service impact, outstanding career achievements, plus awards and recognition.
Andy graduated from Delaware Hayes High School as valedictorian and with honors including the Hugh O'Brien Leadership Award, the Columbus Dispatch Student Athlete of the Year award, and Delaware County Teen of the Year. A Summa Cum Laude graduate of Ohio Wesleyan University, Andy was named to numerous memberships in prestigious honor societies as well as serving as president of his fraternity. Andy also holds a Master's degree in Finance from Ashland University.
In June, 2006, Andy joined RED Capital Group as a full-time analyst. While at RED, Andy has served as a co-chair for Ohio Wesleyan University's Annual Fund; Chapter Advisory Board Chairman and President of Phi Delta Theta Fraternity; Board Member of Columbus Apartment Association, as well as volunteering at the Capital Area Humane Society.
Andy is currently Director, Multifamily Originations at RED. He is the youngest banker in the firm as well as the youngest director in the history of the company and closed loans in excess of $103 million in 2013. Andy serves in many leadership positions throughout the community including, Leadership Hilliard, the YMCA of Central Ohio, and Movement Church. Most recently, Andy and his wife, Ashley, established Dot's Tots, a foundation named for his grandmother, Dorotha, who was a lifelong educator. This foundation offers support to families providing foster care, children with debilitating disease, injury, and/or illness, and teenagers in their higher educational pursuits.
James P. Hensley, Senior Managing Director at RED CAPITAL GROUP, LLC said, "Andy exemplifies the values we uphold at RED. He serves his clients, community and our firm with integrity, class and an unparalleled work ethic." Hensley went on to say, "We are very proud to have Andy as a part of the RED team."
"I am honored to receive this award," said Andy Warnock. "I grew up with two philanthropic parents who provided me with guidance on how to live a successful professional, post-graduate, family centric life." Warnock continued, "I've always had a zest for life and appreciate greatly the many opportunities with which I have been blessed. In sports and in life there are obstacles and daily challenges. Having faith, working hard, keeping a positive outlook, and maintaining an appreciation for life will always carry the day."
About RED CAPITAL GROUP, LLC
Recognized for its industry expertise, innovative and comprehensive structures, and consistently high rankings, RED CAPITAL GROUP, LLC has provided over $55 billion of integrated debt and equity capital since 1990 to the multifamily, student and seniors housing, and health care industries through three operating companies. RED Mortgage Capital, LLC is a leading Fannie Mae DUS® and MAP- and Lean-approved FHA lender with a mortgage servicing portfolio of more than $17.8 billion. RED Capital Markets, LLC (MEMBER FINRA/SIPC) is a leader in the distribution of Fannie Mae and Ginnie Mae Project MBS and provides structuring, underwriting, placement and advisory services for tax-exempt and taxable housing and health care bonds. RED Capital Partners, LLC provides proprietary debt and equity solutions and asset management in a range of forms including subordinated gap and bridge loans. RED CAPITAL GROUP, LLC, a subsidiary of ORIX USA Corporation, is headquartered in Dallas, Texas, with a large regional office in Columbus, Ohio, and nine additional offices nationwide.
About ORIX USA Corporation
ORIX USA Corporation is a diversified financial company with approximately $6 billion of assets in sectors spanning commercial finance, venture finance, commercial real estate and public finance, as well as $25 billion of assets managed for others. Operating subsidiaries include Houlihan Lokey, RED CAPITAL GROUP and Mariner Investment Group. Headquartered in Dallas, Texas, ORIX USA and its subsidiaries have more than 1,400 employees and offices in major cities including New York, Los Angeles, London and Tokyo.
ORIX USA is a wholly owned subsidiary of ORIX Corporation, a Tokyo-based, publicly owned international financial services company with operations in 35 countries worldwide. ORIX Corporation is listed on the Tokyo (8591) and New York Stock Exchanges (IX). For more information on ORIX USA, visit http://www.orix.com.
DUS® is a registered trademark of Fannie Mae.