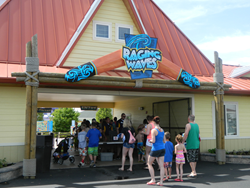 'We're excited for our seventh season of operation and extremely excited about our new high dive show – Sinbad and the Search for the Golden Pineapple! This free-with-admission show starts on June 14.'
Yorkville, Illinois (PRWEB) May 30, 2014
Illinois' largest water park, Raging Waves, opened on Saturday, May 24th, Memorial Day weekend, kicking off their seventh season with an exciting new show. The 45-acre, family-friendly park located in Yorkville is adding a pirate-themed high dive show this summer.
"It's been a long winter, so it is time to say 'Welcome to Summer!'," says Dan Mulka, marketing manager for Raging Waves. "We're excited for our seventh season of operation and extremely excited about our new high dive show – Sinbad and the Search for the Golden Pineapple! This free-with-admission show starts on June 14. To look up and see Sinbad getting to ready to dive from 80 feet is going to be amazing!"
"We have been touring the Sinbad show for at least 15 years, all over the world. It is one of our most popular shows," says Bill Brown, president of Brown Entertainment. "We have infused the show with Olympic Diving, Acrobatic Diving, Comedy routine, as well as a 85' High Dive. If that is not enough, we have the Human Torch Fire Dive on the last show every day. All this in the guise of Pirates in costume throughout the entire show."
This Aussie-themed, privately owned water park offers 17 water slides, wave pool, lazy river and multiple play areas. Main slide attractions include the Boomerang, Crocodile Mile, Tasmanian Twisters and the Platypus Plunge, just to name a few. Other attractions include Kookaburra Kreek lazy river and the Great Barrier Reef wave pool. More information can be found at the Raging Waves website, http://www.ragingwaves.com or by calling 630-882-6575.
About Raging Waves
Raging Waves is Illinois' largest water park, in Yorkville, located 45 minutes west of Chicago. The Aussie-themed family park entertains thousands of guests each day during the summer season. The park was named "Best of the Midwest" by Midwest Living magazine and USA Today rated Raging Waves a "top Illinois Summer Destination." The park is affiliated with the World Waterpark Association and International Association of Amusement Parks and Attractions.