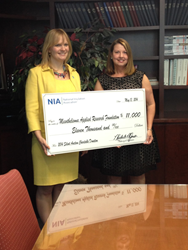 We wanted to pick a charity that resonated with our members so that it would add to the meaningfulness of the silent auction and bring out the motivation of our members to donate
Alexandria, VA (PRWEB) May 30, 2014
On May 13, Mesothelioma Applied Research Foundation's chief executive officer, Melinda Kotzian, traveled to the Northern Virginia offices of the National Insulation Association (NIA) where she was presented with an $11,000 donation to the Foundation. NIA held a silent auction in April of 2014 as part of their annual convention, through which they raised $22,000. Half of the proceeds were awarded to the Mesothelioma Applied Research Foundation (Meso Foundation), while the other half was given to the NIA Foundation for Education, Training, and Industry Advancement.
Michele M. Jones, the executive vice president and chief executive officer of NIA, personally presented the $11,000 donation to Melinda Kotzian. When asked why NIA chose the Meso Foundation as the recipient, Jones said, "We wanted to pick a charity that resonated with our members so that it would add to the meaningfulness of the silent auction and bring out the motivation of our members to donate."
This donation helps the Meso Foundation maintain and improve its many programs, including its patient support services; development and distribution of online and offline educational materials; funding of the most promising research to develop life-saving treatments; and advocating the federal government for continued and increased funding of research. Upon receiving the donation at NIA, Melinda Kotzian noted, "As such a small organization, this amount makes a huge impact on what we do. Every dollar enables us to continue to operate our life-saving programs."
Founded in 1953, the National Insulation Association works to keep the commercial and industrial insulation industry up-to-date on industry trends and technological advances. The NIA Foundation for Education, Training, and Industry Advancement funds high-quality programs to increase awareness of the many benefits of insulation, and it has developed training and other industry-enriching programs.
In its early years, NIA often saw the use of asbestos in insulation. In the 1950s and 60s, most insulators did not know of the risks involved with asbestos exposures. Due to the fact that mesothelioma has a latency period of 20 to 60 years, some insulators who were exposed to asbestos back then are now developing mesothelioma. Jones continued, "[Mesothelioma] has been prevalent throughout our history and we want to do our part and do what we can for those who have been affected by this disease."
Mesothelioma is a malignant tumor of the lining of the lung, abdomen, or heart known to be caused by exposure to asbestos. Medical experts consider it one of the most aggressive and deadly of all cancers. An estimated one-third of those who develop mesothelioma were exposed while serving in the Navy or working in shipyards.
ABOUT THE MESOTHELIOMA APPLIED RESEARCH FOUNDATION
The Meso Foundation is the only 501(c)3 non-profit organization dedicated to eradicating mesothelioma and easing the suffering caused by this cancer. The Meso Foundation actively seeks philanthropic support to fund peer-reviewed mesothelioma research; provide patient support services and education; and advocate Congress for increased federal funding for mesothelioma research. The Meso Foundation is the only non-government funder of peer reviewed scientific research to establish effective treatments for mesothelioma and, ultimately, a cure for this extremely aggressive cancer. To date, the Foundation has awarded over $8.7 million to research. More information is available at http://www.curemeso.org.
###