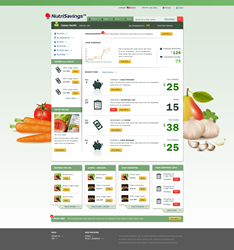 'We are pleased to offer our employees another incentive that encourages a healthy lifestyle,' said Judith West, Senior Vice President and Chief Human Resources Officer.
Newton, MA (PRWEB) June 26, 2014
NutriSavings is pleased to announce that MaineHealth, ranked among the nation's top 100 integrated healthcare delivery networks, has deployed NutriSavings' rewards-based model to make healthy grocery shopping easier and more affordable for its employees. MaineHealth employees who enroll in NutriSavings will access nutrition education and earn financial rewards based on their healthy choices at the supermarket and program participation rate.
MaineHealth employees and their families will access a suite of digital nutritional tools developed by NutriSavings, which are designed to boost nutritional IQ and nutritional spending power. On their desktop computer, tablet or smartphone, MaineHealth employees will access nutrition panels, ingredient lists, nutritional scores on more than 100,000 products, along with healthy recipes and practical tips. They will also receive exclusive discounts on healthy foods, offered by participating food & beverage companies.
MaineHealth is offering NutriSavings as part of its WOW! (Works on Wellness) program, which is designed to maximize the health and quality of life and wellbeing of MaineHealth employees and their families.
"We are pleased to offer our employees another incentive that encourages a healthy lifestyle," said Judith West, Senior Vice President and Chief Human Resources Officer. "Our WOW! program already rewards staff for things like gym memberships, weight-loss programs and many other activities. Adding rewards for healthy grocery shopping is exciting because employees are recognized for something they already do – making healthy choices at the grocery store."
NutriSavings' Big Data technology processes 150 million nutritional data elements and provides rewards based on employees' positive behavioral changes at their supermarket. Employees register online with their supermarket loyalty card or other unique ID. Then, they see their progress in near real time, watching their grocery basket score improve and experiencing the health benefits that come with a more nutritious diet. NutriSavings is accepted at major supermarket chains, including Hannaford, Shaw's and Food City in Maine.
"Hannaford works to make healthy choices convenient and affordable for all of our shoppers. We are pleased to see MaineHealth taking it even farther by rewarding customers in our marketplace for making healthy choices," said Julie Greene, Manager of Healthy Living for Hannaford Supermarkets.
"MaineHealth has earned a solid reputation in the healthcare industry as an innovator in employee wellness, as evidenced by their wide-range of reward-based programs," said Gerard Bridi, CEO, NutriSavings. "We look forward to championing MaineHealth employees' personal and financial health in an effort to improve their wellness and reduce healthcare costs."
Annual medical costs of obesity-related diseases total $147 billion*. Full-time workers in the U.S. who are overweight or obese and have other chronic health conditions miss an estimated 450 million additional days of work each year compared with healthy workers -- resulting in an estimated cost of more than $153 billion in lost productivity annually**. According to a recent Harvard School of Public Health study, a healthy diet costs around $550 more per person each year.
About MaineHealth
MaineHealth is a not-for-profit family of leading high-quality providers and healthcare organizations working together to make their communities the healthiest in America. Ranked among the nation's top 100 integrated healthcare delivery networks, MaineHealth member organizations include Maine Medical Center, Lincoln County Health Care, Maine Behavioral Healthcare, Memorial Hospital, Pen Bay Healthcare, Southern Maine Health Care, Waldo County Healthcare, Western Maine Health, HomeHealth Visiting Nurses, Maine Physician Hospital Organization, NorDx and Synernet. Affiliates of MaineHealth include MaineGeneral Health, Mid Coast Health Services, New England Rehabilitation Hospital of Portland and St. Mary's Health System.
About NutriSavings
NutriSavings is an online ecosystem where employers, health plans, food and beverage companies, and produce growers, join forces to get employees healthy. We are on a mission to improve the health of the U.S. workforce and reduce the enormous costs associated with obesity and other chronic diseases through better nutrition. NutriSavings is the first measurable nutrition benefit solution that is designed to change shopping behavior and incentivize healthy food purchases. Our solution is integrated with the nation's largest supermarket chains, enabling participants to see their grocery basket score in near real-time. NutriSavings is a joint-venture between Edenred, the world leader in employee benefits, and SavingStar, the only national fully digital grocery savings service in the U.S.
Sources:
*Centers for Disease Control and Prevention
**Gallup-Healthways Well-being Index