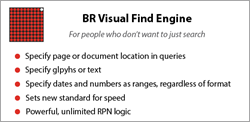 Perhaps the most unique functionality is that users can search for a particular glyph or shape independent of its textual value.
Memphis TN (PRWEB) May 30, 2014
John Martin, CEO and Founder of BeyondRecognition, LLC, ("BR") a Memphis-based provider of information governance technology to Fortune 500 companies, announced today that BR has developed the initial version of its BR Visual Find Engine that provides search functionality not found in text-based search and document classification technologies.
According to Martin, "With BR Find users have entirely new functionalities to use when locating specific documents in a collection, functionalities that are an outgrowth of the way we create a global glyph catalog – or GCC – when we initially process native files or scanned documents. Users can search for items within a particular zone on a page or document or in a specific spatial relationship between or among terms. For example, users could search for the word 'annual' at the top of a page or at the top of a document and combine that with other restrictions that the words 'August' and 'September' had to in a vertical relationship with each other."
Martin continued, "BR knows how numbers and dates are represented in documents and searches for those items can look for ranges. A search for a number between 10 and 25 would find the terms 'ten,' '11', '10.4556', and 'twenty four.' A search for Jan. 1, 2012 to Feb. 3, 2014 would find 1-1-2012, February 4th, 2012, 3/4/13, and New Years Day 2014. Perhaps the most unique functionality is that users can search for a particular glyph or shape independent of its textual value. For example, a person could look for where the Nike logo appeared in a document regardless of whether the term 'Nike' appeared in the text."
BR has a beta user arrangement in place with a Fortune 10 company to use BR Visual Find.
About BeyondRecognition, LLC
BeyondRecognition ("BR") provides a suite of integrated information governance tools that help Fortune 500 companies consolidate paper and electronic documents, migrate documents to content management systems, and remediate file shares. BR's key technologies include the ability to organize content by grouping documents based on visual similarity – even native files, PDF's, and scanned documents can all be processed together. BR's visual coding then automates extracting data elements from each cluster. BR's clients enjoy rapid project start-up, and improved accuracy in coding or extracting data elements from documents, and they particularly appreciate finishing projects in months originally scheduled to take years.
For more information about BeyondRecognition, visit the BR website at http://www.BeyondRecognition.net, or contact Joe Howie, VP, Corporate Communications, at jhowie(at)beyondreognition(dot)net, or 918-894-6943.
You can also follow BR on Twitter @BeyondRecog or join the BeyondRecognition group on LinkedIn at http://www.linkedin.com/company/beyondrecognition.