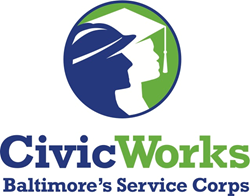 By providing a wide range of free, comprehensive services and information for older adults, we help seniors live better within their neighborhoods.
Baltimore, MD (PRWEB) June 04, 2014
Civic Works' Cities For All Ages was honored with an award for program achievement from the Maryland Gerontological Association (MGA). This award honors a community group, business, or organization that has demonstrated leadership, advocacy, or developed an innovative program for seniors. At the 32nd Annual Spring Conference of the MGA on June 4, 2014 at Charlestown Retirement Community, Cities For All Ages (CAA) was recognized for making a significant difference in the quality of life for older adults in Baltimore.
Civic Works' Cities For All Ages program strives to ensure that older adults live healthy and successful lives within their Baltimore communities. Free services are offered to adults (ages 65+) living in Baltimore City. These services include Home Repair, Home Safety Modifications, Occupational Therapy, Case Management, Community Outreach and Education, and Information and Referral. According to AARP, the Census Bureau estimates that close to 8 million people in the United States will be over the age of 85 by 2020. One of the most common problems facing older adults is living in a home that no longer matches their needs and abilities. By assessing home safety risks, addressing fall hazards, installing rails, and improving lighting conditions, CAA helps prevent accidents at home. While improving the home environment, the CAA team can also evaluate additional potential needs of seniors, including occupational therapy. CAA's occupational therapists can adapt environments, modify tasks, and teach new skills, all of which help seniors improve their ability to perform daily activities. CAA also provides older adults with free resources that help save money on energy costs, such as energy-saving light bulbs, low flow water faucets and more. Additional information is available through the program to help connect seniors with benefits and services around the city.
"We are incredibly proud that Cities For All Ages has been honored by the Maryland Gerontological Association for our work in the Baltimore community," stated Dana Stein, Executive Director of Civic Works. "By providing a wide range of free, comprehensive services and information for older adults, we help seniors live better within their neighborhoods."
Cities For All Ages believes that by helping older adults live better, Baltimore neighborhoods ultimately become safer, stronger and more vibrant for residents of all ages.
ABOUT CIVIC WORKS
Civic Works is Baltimore's urban service corps and an AmeriCorps program. Our mission is to strengthen Baltimore's communities through education, skills development, and community service. Civic Works AmeriCorps members tutor and mentor students, create community parks and gardens, help homeowners conserve energy, grow food for low-income residents, rehabilitate abandoned houses, involve families in Baltimore City schools, make homes safer for older adults, and recruit volunteers. Civic Works also trains Baltimore residents for employment in the healthcare and green job industries. Cities For All Ages, a Civic Works program funded by the Harry and Jeanette Weinberg Foundation, provides the community's seniors with practical services and information essential to healthy and successful lives. For more information, please visit http://www.civicworks.com.
For information about Civic Works' Cities For All Ages Program:
Lauren Averella, Elder Services Coordinator
(410) 449-2322
laverella(at)civicworks(dot)com