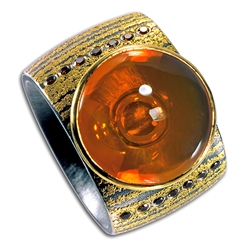 As refined and wearable precious works of art, they transcend jewelry as ornament.
(PRWEB) May 30, 2014
Who: Peter Schmid of Atelier Zobel
What: 100 Rings
Where: Patina Gallery
131 W Palace Avenue
Santa Fe, NM
When: August 15- 31, 2014
Artist Reception: August 15 5:00 – 7:30
Santa Fe's Patina Gallery is thrilled to celebrate its 15th anniversary this August with a very exceptional exhibition. Titled "100 Rings," the exhibition features works of the renowned German jewelry studio, Atelier Zobel. "100 Rings" promises just that, 100 of the studio's most beautiful rings in oxidized silver, high karat gold and platinum. Traveling from Germany, artist Peter Schmid will be in the gallery to share his atelier's magnificent creations. This will be Atelier Zobel's 13th exhibition with Patina Gallery and the audience for these thrilling works continues to grow.
When asked how he feels about being the only jewelry artist exhibited this year at Patina, Schmid replies, "I love it! Is it really a question? I'm totally honored! It is exceptional for all these years to be so well represented. I always love to come to Patina. My jewelry is so beautiful in the space…it's so luxurious."
Patina's first exhibition with the Atelier was held in August of 2000, when the legendary Michael Zobel was the creative heart of the studio. His ecstatic works of contemporary jewelry have influenced artists the world over. The Atelier's signature combination of oxidized silver and 22k karat gold is emulated by many but no one approaches the artistic depth or sophistication of these works.
As refined and wearable precious works of art, they transcend jewelry as ornament. Metals are applied with a painterly sweep. Diamonds seem dusted into place and carved gems offer sculptural relief. Today, the Atelier continues to reimagine what jewelry can be and what it expresses about the women who wear it.
The Atelier Zobel exhibition is Patina's only exhibition this year presenting contemporary studio jewelry. Gallery director Ivan Barnett selected Atelier Zobel for the gallery's 15th anniversary year because of the valued and long standing friendship that the two share. "Peter Schmid has carried on the amazing Atelier Zobel tradition seamlessly with fresh personal style, sophistication and taste."
The exhibition opens August 15 and continues through August 31. A reception for Peter Schmid will be held Friday, August 15 from 5 – 7:30.