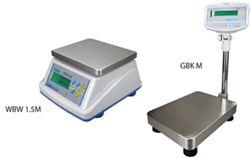 Adam Equipment offers a wide range of scales and balances approved for use in retail settings.
Johannesburg, South Africa (PRWEB) May 31, 2014
Adam Equipment, a worldwide manufacturer of high-quality scales and balances, announced today that it has added two new models to its comprehensive collection of approved scales. The recent additions include the WBW 1.5M washdown scale and the GBK M bench checkweighing scale, which are approved for trade use in South Africa.
The GBK M offers all the features needed for weighing, parts counting with fully selectable sample or unit weight, and checkweighing with coloured LED limit indicators. The large, backlit display with capacity tracker is simple to read and shows how much weighing range remains when using the tare function, ensuring against overloads.
An easy-to-use, fully numeric keypad allows for preset tare functions and freely selectable sample size in the counting mode. The GBK's keypad and functions can be locked by a supervisor to prevent tampering with scale settings. Sending information to printers and computers is simple using the RS-232 interface with date and time, which increases productivity by providing speedy data recording and traceability.
Other features of the GBK include adjustable filters, a solid stainless steel pan that is removable for easy cleaning and well suited for heavy-duty industrial use, and non-slip rubber feet, which are adjustable to level the scales and improve accuracy. The rechargeable battery is easily accessible, while the auto-sleep and power-down functions save battery life, and an indicator warns of low battery.
With a capacity of 1,500g and readability of 0.5g, the WBW 1.5M is the newest model to join the approved scales in the WBW M washdown family. The lightweight and portable WBW M models feature an easy-to-read and brilliantly backlit LCD with capacity tracker, which helps prevent users from exceeding the scale's capacity. Colour indicators show if the weight is under, over or within the preset limits, making checkweighing fast and simple.
The WBW can operate in locations where electricity is unavailable, as it is powered by an AC adapter or internal rechargeable battery. An auto-sleep/power-down function helps save battery life. An IP66-rated washdown housing and large stainless steel weighing pan give the WBW M a high level of protection for wet applications, and make cleaning simple.
The newly approved scales join a full range of approved products Adam Equipment offers for retail and food-related industries in South Africa, including: WBZ retail washdown scales; AZextra retail scales; CBK bench checkweighing scales; NETS retail price computing scale s; WBW M washdown scales; and GFK M shipping and receiving floor scales.
About Adam Equipment
For more than 40 years, Adam Equipment has designed and manufactured precision balances and scales for professionals worldwide in the laboratory, medical, education, industrial, food, animal and jewellery markets. Adam is committed to offering an extensive selection of weighing equipment with best-in-class value. Headquartered in the United Kingdom, the company has strategically established offices in the United States, South Africa, Australia and China to provide product support and speedy delivery to distributors. For more information about the company and its products, go to http://www.adamequipment.com.