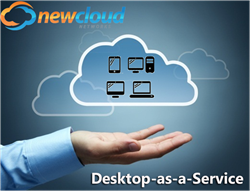 With data generation increasing and technology constantly changing, businesses need virtualized desktop environments in order to keep up with their growth. - Sam V. Kumar, President of NewCloud Networks
Denver, CO (PRWEB) May 30, 2014
Nationwide cloud services provider NewCloud Networks has released its newest Infrastructure-as-a-Service offering, Desktop-as-a-Service. By combining this new service with the company's existing cloud services, NewCloud now has the ability to offer complete-end-to-end cloud infrastructure services to midmarket businesses across the country.
Desktop-as-a-Service (DaaS) is a service in which the compute, storage and disk components of the individual desktop run from a data center, rather than a local machine. The desktop is accessed with any device connected to the Internet while being managed by the data center provider. NewCloud uses VMware virtualization as the platform for this revolutionary service.
Although the product is a new offering for NewCloud, DaaS is already being adopted by many different markets including healthcare, education, financial services and SMB. NewCloud primarily focuses on midmarket businesses, or businesses with 50-1,000 employees.
"Our Desktop-as-a-Service solution completes our Infrastructure-as-a-Service portfolio and highlights our dedication to the midmarket space," says Kristofor Hogaboom, Vice President of Sales Engineering for NewCloud. He adds, "Virtualizing the desktop environment increases security for businesses. In a DaaS environment, the device connecting to the desktop is only used as a gateway for accessing business data. If the device is compromised in any way, for example by theft or damage, the data remains intact and safe in our facilities."
In addition to the security DaaS provides businesses, the solution also addresses more of today's business infrastructure concerns.
"With data generation increasing and technology constantly changing, businesses need virtualized desktop environments in order to keep up with their growth. In a DaaS environment, just as within a virtual server environment, our customers can ask us to increase resources as needed, rather than having to capacity plan for a hardware purchase and risk underutilization. It is a faster and more cost-effective solution than making a traditional desktop purchase," says Sam V. Kumar, President of NewCloud Networks.
Some of the other benefits of DaaS by NewCloud Networks include:

Single user experience no matter where the user is located: As long as the user can connect to the Internet, the individual desktop is accessible.
Elimination of remote connectivity problems: Historically, users wanting to access business data had to do so using a VPN connection. With DaaS, users don't need to use a VPN because they are able to take their files anywhere they go.
Increased Security: The desktops are hosted in NewCloud's SOC 2 Type I Certified and HIPAA Compliant data centers.
The new service, launched in May 2014, has been added to NewCloud's existing portfolio of cloud infrastructure solutions. The company also offers a hybrid cloud service powered by VMware as well as Backup and Disaster Recovery for virtual and physical environments. The company provides these services from their data centers in Denver, CO and Phoenix, AZ. The data center locations were chosen because of their low risk of natural disaster.
For more information about DaaS or other NewCloud services, please call 1-855-255-5001.