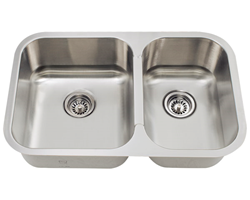 Once again, MR Direct is expanding its line of stainless steel sinks
Toledo, Ohio (PRWEB) May 31, 2014
Once again, MR Direct is expanding its line of stainless steel sinks with the introduction of its latest design, the 530L. Because many of today's new dwellings are being conceived and constructed with smaller, more efficient kitchen areas, it is only natural that market demand has increased for smaller appliances and fixtures. To address this growing trend in sinks, the 530L was developed by MR Direct.
The 530L is a double-bowl, offset, and undermount style sink. Measuring 27½'' x 18'' overall, it matches the width of the narrowest sink of this style offered by MR Direct, the 528L. Both models have bowls which feature broad curved corners for easy water flow and quick cleaning. The left bowl on each is 14'' x 16'', the right is 10½'' x 16''. The key difference is that the new 530L flaunts an impressive 7¾'' depth, with standard 3½'' offset drains, in both basins. The original 528L has an 8'' depth in the left bowl and a shallower 7¼'' depth in the right.
The 530L sink is specifically designed to be mounted under the countertop. This is an installation approach growing in popularity because it provides what many believe is a more glamorous, contemporary effect. The 530L sink is clamped under a counter of at least a 27'' width and further secured with a silicone-based sealant to assure a water-proof joint. Installing in this fashion offers three options of the final appearance. In a flush mount, the well of the sink lines up perfectly with the edge of the counter opening. In a positive reveal, a small portion of the sink rim is exposed. And, in a negative reveal, the countertop slightly overlaps the interior of the basins.
As with all MR Direct stainless steel sinks, the 530L is constructed of premium 304-grade, cold-rolled metal and is formed in the industry's standard 18-gauge thickness. The visible exterior surface receives a brushed satin finish which not only adds to its beauty, but helps hide minor scratches which could occur over time. The hidden underside has sound dampening pads applied to reduce noise, and a barrier coating to prevent condensation. All these features make the 530L a premier new member of the MR Direct line of stainless steel sinks. View this model and all MR Direct sinks by visiting http://www.MRDirectint.com.