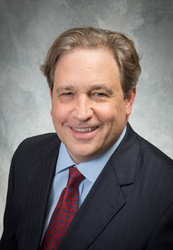 Valley Forge, PA (PRWEB) May 29, 2014
RatnerPrestia is pleased to announce that James Matthew Gould has joined their Valley Forge, PA office as Counsel. James joins RatnerPrestia after twenty years with Merck & Co./Schering-Plough, most recently as a Legal Director at Merck, where he was responsible for strategic patent portfolio management, patent due diligence, freedom-to-operate assessments, validity and infringement opinions; client counseling, patent prosecution, tech transfer and licensing, data exclusivity matters, Hatch-Waxman ANDA pharmaceutical litigation, and global patent litigation. He has handled complex pharmaceutical and biotech patent cases throughout his career, most recently specializing in global patent litigation and IP licensing at Merck and Schering-Plough.
James is fluent in German having litigated extensively in Germany and other parts of Europe and Asia and has also worked at the United States International Trade Commission.
James holds bachelor's and master's degrees from Cornell University and received his law degree from Penn State University's Dickinson School of Law. He has also studied at Ruprecht-Karls-Universität Heidelberg in Germany on a Deutscher Akademischer Austauschdienst Fellowship and is currently completing his M.S. in Biotechnology at Johns Hopkins University.
RatnerPrestia's practice is devoted exclusively to intellectual property (IP) law. With extensive and diverse legal, technical and corporate expertise, its professionals provide practical, cost-effective, business-oriented counseling to a wide range of international and domestic businesses. It represents clients in court proceedings and before the U.S. Patent and Trademark Office. Through its extensive network of foreign associates, it also represents clients before courts and administrative bodies around the world. RatnerPrestia is a full-service IP firm with a 30 year proven track record of success. For additional information, contact Barbara A. Foley, Chief Operating Officer at (610) 993-4233.