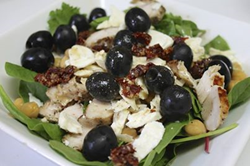 The truth is, you can still enjoy eating healthy and partake in a healthy lifestyle for less.
(PRWEB) May 30, 2014
Professional blogger and allergy activist Rachel Lee Coppola has been helping families to save money and cook healthy food for years. But in her new campaign she is helping them to do both. She says the idea that healthy food is expensive is a common misconception that can be overcome in just a few simple steps. The following is her advice to families on a budget who want to save money on health foods.
1. Families interested in buying food from health food brands should take the time to write to the companies directly. Simply go to the website of each company and look for a contact email address. The email should praise the company's products, ask about any special discounts or coupons, and include a mailing address. Coppola says in many cases, this simple communication will lead to coupons and even free product samples.
2. Follow health food companies on Facebook. By clicking "like" on the pages of your favorite health food brands, penny-pinchers are able to stay up-to-date on coupon codes, special offers, and promotions. Many times, these discounts don't appear anywhere else.
3. Remember to check out discount grocers such as Aldi's and Save-a-Lot. These stores work hard to appear to people who want healthy food. As a result, they are beginning to carry more health food items at great prices.
4. Consider trying Amazon's Subscribe and Save program. Believe it or not many health foods can be ordered right on Amazon and delivered to the customer's home. But subscribing, or signing up to receive the items periodically, it is possible to save at least 15% from an entire order.
5. When shopping for health food in the grocery store, keep an eye out for product "peelies" – the peel off coupons located on the product packaging. Peelies allow consumers to save money instantly at the checkout.
6. Learn to stack coupons. Stacking refers to the practice of printing or clipping coupons offered by a store, such as Target, and then stacking them with further coupons from the manufacturer for more savings. Anyone savvy enough to find a Cartwheel offer could stack even a third time.
7. Seek out farmer's markets in the local area. Farmer's markets are a treasure trove of fresh produce and other health food items for less. Often the items at the market cost less than those in the supermarket because they don't have to be shipped in from faraway places.
Coppola says healthy eating can be a goal for anyone. She believes that by following money saving tips in the quest for good food, eating healthier will not break the bank. "People seem to think that when it comes to eating healthy, you just need to bite the bullet and pay a hefty price. But the truth is, you can still enjoy eating healthy and partake in a healthy lifestyle for less," says Coppola. She says many of the same tips for deals on regular food items can also be applied to health foods.
Rachel Lee Coppola is available for interviews and consultations. She may be reached by email at savingandmore(at)gmail(dot)com.
About Rachel Lee Coppola:
Rachel Lee Coppola is a frugal living expert and food-allergy advocate, as well as the owner of Saving and More. She shares her money-saving techniques through her roles as a top national professional blogger, a public speaker, author, and media consultant. She is a wife and mother based in Boston, Massachusetts. She writes about family-related products, cooking recipes, living on a budget, becoming debt-free, and her experiences with her daughter who has multiple food allergies. To find out more about her, visit Saving and More.