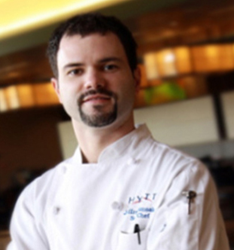 Denver, CO (PRWEB) May 30, 2014
Grand Hyatt Denver Executive Chef John Treusein announces the appointment of Jeffrey Samoska to the position of Chef de Cuisine of the Pub 17 on Welton Street. A newer addition to the Colorado craft beer scene, this downtown Denver brew pub was introduced into the Denver market in July of 2012 and promptly garnered the Sunset Magazine Editors' Pick Award.
Chef Samoska comes to Denver from The Woodlands, Texas where he was the Chef de Cuisine, overseeing culinary operations for Hyatt Market Street, an upscale boutique hotel. He was also Chef de Cuisine at Hyatt Regency Houston for two years and Sous Chef at Hyatt Regency Greenville prior to that. He began his Hyatt career as a Culinary Corporate Management Trainee in 2008 at Hyatt Regency Orlando Airport.
In his new role, Chef Samoska's focus is on creating eclectic, new American Pub fare in a stylish setting that highlights Colorado produce and game, utilizing natural organic ingredients whenever possible. Here, in the cradle of the pioneer spirit, Pub 17 serves up a bounty of locally grown produce, artisan cheeses and premium meats. Guests are invited to stay inside their comfort zone and choose from an array of expertly prepared traditional foods, such as house-cured smoked ham, Colorado lamb and a selection of gourmet burgers. The menu also allows a venture into the unfamiliar with smoked habanero green chili pimento cheese and calamari "steak fries".
Every signature dish the chef has created is styled to complement a long list of Colorado microbrews, in fact, up to 50 under one roof. Some are with very limited release and difficult to find anyplace else. The extensive beverage menu branches out to include award-winning western slope wines and signature concoctions such as a selection of "Hop Tails" (cocktails made with beer), the Original Rocky Mountain Mule and more.
Chef Samoka is a graduate of the Texas Culinary Academy, Le Condon Bleu, with an associate's degree in Culinary Arts and holds two Bachelor's Degrees from the University of Missouri.
About Pub 17 on Welton Street
Located just off of the corner of 17th Street on Welton, the mainline for business, Pub 17 captures the mood and flavor of the Mile High City by providing neighborhood microbrews, regional wines and high plains culinary fare. Pub 17's approach to dining meshes with the Hyatt global philosophy focused on sourcing and providing healthy food and beverage options that support the local community and that are good for the planet. Driven by insights and in-depth research Food. Thoughtfully Sourced. Carefully Served. is a key component of the health and wellness pillar of Hyatt Thrive, Hyatt's global corporate responsibility platform designed to enable thriving communities.
Textural lighting casts a welcoming glow over Pub 17, a room filled with custom art and stacked mirrors reflecting the city surroundings. This is clearly evident in a barrel from the local distillery, Stranahan's, which carves out the Denver skyline, adorning the wall as a reminder that some of the best beverages made originate right here in Colorado. Seating at Pub 17 is deep and restful, the soft hues an easy backdrop for conversation; ideal for closing a deal or celebrating a victory.
Pub 17 on Welton offers three meals daily from 6:00AM – 11:30PM. Discounts on appetizers and beverages are available during Happy Hour from 3:00PM – 6:00PM and again from 11:00PM to close. Large parties can be accommodated quickly and easily by calling (303) 295-1117. Reservations for Pub 17 may be made by calling (303) 295-1117 or by visiting Opentable.com. Parking is validated for dinner guests.
For more information on Pub 17 on Welton Street, including a list of interesting Colorado Beer Facts, visit http://www.Pub17Denver.com.
# # # #