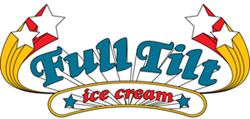 Full Tilt Ice Cream expands to a 5th location.
Seattle, WA (PRWEB) May 31, 2014
Seattle ice cream impresario Justin Cline is expanding the famous Full Tilt  Ice Cream brand to a 5th location with a vision of franchising in the near future. On June 1st, Justin will be teaming up with entrepreneur Jerrod Sessler to open Full Tilt Tukwila, Washington inside Sessler's recently opened Zoopa Organic (http://www.EatZoopa.com). The integration of the Full Tilt kiosk inside Zoopa Organic fits well as both companies are on mission to deliver a healthier enjoyable solution to the community.
This location, because it is a kiosk will not have the same vibe as many of the Full Tilt locations which commonly boast a suite of pinball and video game machines.  Do not to be concerned however, as the bevy of options within Zoopa Organic read like a whose-who in Seattle food, making the adventure a bit like visiting a food court with all the favorites Seattleites enjoy. Jake's Juice flanks the new Full Tilt offering fresh made organic juice and smoothies. Also Seattle Bagel Bakery packs out the ovens leaving the restaurant wafting with fresh bread aroma.
 
The Full Tilt location offers eight flavors with multiple famous non-dairy delights that have made Full Tilt so famous. As Mr. Cline says: "We're making our exotic ice cream available in more locations making it more accessible to those that love our product. We are also offering to go pints and popsicles in the Tukwila location."
 
This new Tukwila, Washington location for Full Tilt Ice Cream at Zoopa Organic is open from 11am - 9pm daily.