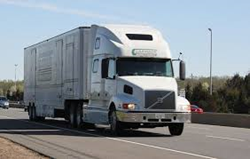 Los Angeles, California (PRWEB) May 29, 2014
England Van Lines currently have only 84% coverage within the United States. The most notable lack of coverage is in Alaska, with only 56% coverage. In order to better serve this region, the company is partnering with sister companies with which it has previously worked, but will be seeking to increase its national coverage to about 98% over the next twelve months.
In order to do this, the company is purchasing storage space in the state, and looking to train employees who are willing to relocate to the area within the next year. These newcomers will be trained in Los Angeles before being sent to Alaska to open and operate the new locations. England Van Lines expect to open three new branches in the state, but the decision has not yet been set in stone.
A company spokesperson for this cross country moving company discussed details on the proposed expansion: "England Van Lines is in a period of expansion, and so we'd like to cover as much ground as we can while we have this opportunity. Thousands of entrepreneurs in Alaska choose to relocate or expand their businesses to new locations each year, and with current constrictions, it's difficult for our company to handle clients who seek to relocate to other regions from inside of Alaska."
The decision has been in the works for nearly two years. Company executives commented that border regulations made transporting inventory from Alaska to any of the other states more difficult, but specialists finally agreed that it could be accomplished and was worth the investment. The proposed plan is expected to keep other area commercial moving companies on their toes, and provide competition that may be a boon for the smaller economies operating in Alaska.
Focus groups conducted in Alaska suggest that more denizens of the state would seek to move if services were available. Many current citizens of the state have acknowledged that some area businesses would fare better in other state where the services are more appropriate. Statistics provided by the focus group are the primary reason why the cross country mover is choosing to open its doors in the region.
The company expects to release additional details on the scope of its expansion into Alaska to its regularly updated blog as soon as they become available for public dissemination: England Van Lines are also seeking to make substantial maritime acquisitions in the coming months in order to handle Hawaii's international moving operations.
Press:
William Alexander
England Van Lines
(888) 485-2201