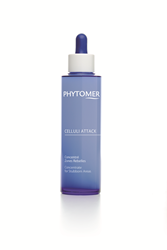 Even the deepest, most severe dimpling is reduced as fat cells are weakened, fat storage is inhibited and fat burning genes are activated.
SAINT-MALO, FRANCE –
PHYTOMER (PRWEB) May 30, 2014 -- PHYTOMER introduces the most powerful fight against cellulite yet, CELLULI ATTACK Concentrate for Stubborn Areas. Slimming ingredients from around the globe are extracted in eco-friendly methods and come together in a precise, high-tech formula. Even the deepest, most severe dimpling is reduced as fat cells are weakened, fat storage is inhibited and fat burning genes are activated. Renowned AHA, glycolic acid works to smooth the surface of the skin, further enhancing contouring ingredient's effectiveness. This fluid formula is packaged with a dropper bottle, making application easy and concise. It has a light-weight texture and is absorbed immediately into the skin, leaving a fresh scent with pepper undertones. Clinical test results prove cellulite, dimpling and stubborn fat were half as visible after four weeks of using product twice daily.*
*Complete tests available upon request.
CELLULI ATTACK Concentrate for Stubborn Areas - 100 ml, suggested retail price $105.00
Directions for use: apply 15 drops morning and evening on targeted areas (hips, buttocks, thighs, saddlebags, abdomen, etc.). Not for use by women who are pregnant or nursing. Not suitable for people sensitive to iodine.
Vectorized Pepper Slimactiv - a pure pink pepper berry oil native to South America. Attacks large lipid droplets to speed up their elimination. It also attacks tiny lipid droplets to stop their maturation. It is incorporated in a vectorized capsule to quickly propel the ingredient to fat cells. The capsule is combined with a signal peptide which enables it to exclusively target adipocytes. Pepper Slimactive is eight times more powerful at eliminating fat then caffeine.*
Sea Absinthium Extract - native to coastal salt marshes of the English Channel and Atlantic, PHYTOMER is committed to using plant cultures of Sea Absinthium in order to preserve marine biodiversity. Its anti-sugar action enables it to limit the storage of glucose in adipocytes, thus inhibiting the storage of fat. This extract combines with Pepper Slimactive to direct a "double battle" against fat cells' protective shields.
Seagrape - an exotic seashore ingredient native to Colombia, it works to decrease the excessive activity of 14 genes* that regulate the growth of adipocytes. It reactivates 16 genes* that regulate the development of fibroblasts and the gene that regulates fat buring*.
Glycolic Acid - smooths the surface of the skin, immediately triggering a high quality exfoliation. It promotes he effectiveness of the three contouring ingredients and softens skin dimpling.
In vitro tests on the ingredient.
Phytomer at a glance:
With over 40 years as the leader in the marine skin care, Phytomer is now a pioneer in the field of marine biotechnology, the future of results-oriented cosmetics. This is the newest technology to create innovative, 100% natural skin care ingredients. Based in Saint-Malo, France and distributed in 70 countries worldwide, Phytomer has a reputation of leadership and expertise within the spa industry. With Phytomer meaning "plant of the sea," we utilize seawater, seaweed or seaside plants in every retail and professional product, combining science with the natural powers of the sea. We are one of the only spa brands with our own laboratory, allowing us to research and cultivate our own ingredients, develop unique cosmetic formulas, manufacture skin care products and create cutting-edge professional treatments to deliver remarkable results.
Available in spas in the United States May 2014 and at http://www.lespausa.com.