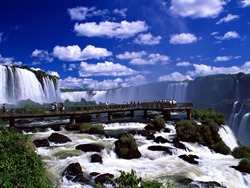 But now that there is a direct flight from Foz to Iguassu on the Brazilian side of the falls, to Lima in Peru, it is easier than ever to combine these fantastic destinations into one vacation.
(PRWEB) May 31, 2014
SouthAmerica.travel, one of the leading tour operators for tours to South America, announces the introduction of a tour package that includes Brazil and Peru, two highlights of South America that are now easier to combine, thanks to a flight routing through Iguassu Falls direct to Lima on LAN Airlines.
In order to promote this new itinerary routing, SouthAmerica.travel is offering the 11-day tour package, including all hotel accommodations, breakfasts, tours in each city, guides, transfers, entrance fees, and taxes, with a 15% discount if booked by Labor Day, September 1, 2014. Pricing depends on a number of factors such as travel dates, number of passengers, hotel type, and add-ons, but a general estimate is $3600/person for the whole package. Flights are quoted separately.
This Iguazu Falls and Machu Picchu Tour is an 11-day tour of Lima, Cuzco, the Sacred Valley, and Machu Picchu in Peru, as well as the Iguazu Falls and Rio de Janeiro in Brazil. While on this whirlwind tour, travelers get to see several UNESCO World Heritage Sites and World Wonders steeped in history, culture, and natural beauty.
"Brazil and Peru have always been a popular combination for travelers who want to see different aspects of South America," explains Jürgen Keller, President of SouthAmerica.travel. "But now that there is a direct flight from Foz to Iguassu on the Brazilian side of the falls, to Lima in Peru, it is easier than ever to combine these fantastic destinations into one vacation."
The tour package can be arranged to start either in Lima, or in Rio de Janeiro, whichever the traveler prefers. If starting in Lima, SouthAmerica.travel's guests begin the journey with a Lima city tour that encompasses both the historic and modern districts, ending with Larcomar, the posh shopping mall built into the cliffs of the Costa Verde.
Next, the tour covers Cusco, a short flight away from Lima. SouthAmerica.travel stands out from the competition in that they address concerns about altitude sickness by whisking guests directly from Cusco to the Sacred Valley, which is at a lower elevation than Cusco and is circled by snow-capped peaks and criss-crossed with Inca trails and ruins.
Finally, guests enjoy a guided tour of Machu Picchu, the famous Inca city that went undetected by the outside world for several centuries. This impressive city of stone has an even more impressive backdrop of looming mountains covered in lush cloud forest vegetation. It's a breathtaking sight.
On the return trip to Cusco, guests have the chance to shop for last-minute souvenirs and take a Cusco city tour, including important Inca sites like Koricancha and Sacsayhuaman. The city tour gives guests important historical background on Cusco, which was the Inca capital but was sacked in the 16th century.
After exploring the territory of the Incas, the tour continues with a return flight to Lima and then a direct flight Lima – Iguassu Falls. Now the Brazilian portion of the trip begins. The main reason why people come to see the Iguassu Falls is because these waterfalls are some of the largest in the world, in terms of pure volume of rushing water. Though not the tallest or the widest, the 270+ falls of Iguassu are a jaw-dropping sight, especially when you take in the surrounding subtropical jungle enveloping the falls. There is an extensive network of trails, catwalks, bridges, platforms, and viewing decks that allow you to see the falls from multiple angles. Plus, you can ride a motorboat up under the falls – but beware, you'll get drenched!
After soaking up the Iguassu Falls, head to Rio de Janeiro for the final portion of this 11-day Brazil and Peru tour. Rio de Janeiro has earned the nickname of the "Marvelous City," due to its natural beauty and unique culture. Guests can find out for themselves if Rio de Janeiro is as marvelous as its nickname claims. Guests get to ride on a cable car to the top of Sugarloaf Mountain, where they can look out over the whole city and its voluptuous coastline. Then take a cogwheel tram to the top of another mountain, Corcovado, to stand at the feet of a 30-meter tall statue of Jesus, called the Christ the Redeemer statue. From these mountaintops, guests can see the islands of Guanabara Bay, the sparkling beaches of Ipanema and Copacabana, the Tijuca forest, and more.
This 11-day Iguazu Falls and Machu Picchu Tour can begin on any day of the year. SouthAmerica.travel arranges custom tour packages that are tailored perfectly to what their clients want. SouthAmerica.travel can work with guests from all over the world to arrange flights to South America, or guests can book airfare separately. SouthAmerica.travel puts their clients first, giving them peace of mind while traveling by providing 24/7 emergency phone numbers, and by taking care of all the details like tours, transfers, and entrance fees. For a complete, custom quote, travelers can fill out the form on this tour page, or call 1-800-747-4540 or the phone numbers for your country listed here.