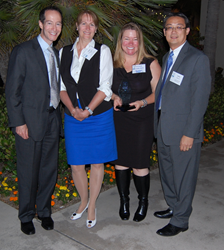 It is a model project for 'Best Practices' in the use of BIM tools and the implementation of the design to construction process.
Newport Beach, Calif. (PRWEB) May 30, 2014
The Design Build Institute of America (DBIA) – Western Pacific Region recently honored the design-build team of St. Jude Medical Center, Petra-Integrated Construction Strategies (Petra-ICS), McCarthy Building Companies and Taylor Design with a Western Pacific Region Design-Build Distinction Award for the design and construction of the St. Jude Medical Center Northwest Tower project in Fullerton, Calif.
Held on May 22, 2014 at the Newport Beach Marriott, the annual awards program recognizes the most outstanding design-build projects in the Western Region. Honored in the Projects in Progress category, the St. Jude Medical Center Northwest Tower design–build team was recognized for exceeding owner's expectations through successful application of design-build best practices as defined by the DBIA Design-Build Manual of Practice. According to the DBIA-WPR, best practices include: early integration of key team members during the proposal process via a proposal charrette or other collaborative outreach effort and close coordination between design and construction team members from design development through field construction.
Scheduled to open in November 2014, the state-of-the-art healthcare facility consists of a four-story, 200,000-square-foot hospital wing which is connected to an existing tower on the first and fourth floors. The project also entails construction of a 20,000-square-foot central utility plant, a 215-car parking structure expansion and re-routing of major site utilities on an active medical campus. Built to replace a seismically noncompliant tower, the Northwest Tower is designed to meet California's strict seismic requirements for both the structure as well as its contents.
The St. Jude Medical Center Northwest Tower project incorporates a design-build collaboration closely resembling the structure of an Integrated Project Delivery (IPD) process. The design-build form of delivery on the St. Jude Medical Center project includes IPD "lite" terms and conditions with unique contractual incentives for the design team, contractors and subcontractors while still providing the owner with the certainty of a Guaranteed Maximum Price. To receive these incentives, the team members must meet specific goals for safety, budget, design, facility satisfaction, quality and schedule.
"We chose a design-build project delivery method in an effort to lower the overall design and construction cost as well as to bring a heightened level of accountability to the design phase of the project," said Jim Bostic, V.P., Construction for Petra ICS. "It is a known fact, that as an owner representative, our best opportunity to control the cost of a project is during the design phase."
The St. Jude Medical Center Northwest Tower project is also benefiting from the latest construction technology. For example, BIM 3D, 4D and 5D were successfully used to tie the model to constructability, cost and schedule. "The design-build team developed the design of this project using 100% 3D modeling for all disciplines, not just the MEP systems," said Bostic. "The entire design team, even at the subcontractor level, worked together from the very beginning of the design process, which is not the current practice on many projects. This delivery system facilitated coordination of every element of the design within the same 3D model."
"A primary project challenge was the onsite logistics and managing the sequencing for the multiple phases of construction on a very active, fully operating healthcare facility," said McCarthy Project Director Holly Cindell. "The campus is almost completely built out and space is limited for staging of materials and developing temporary access to the various operational hospital areas near construction activities.
"Close coordination with each major specialty contractor and the hospital departments was required to ensure a seamless workflow and to minimize disruptions to the hospital. Our team also utilized Syncro software to develop the site logistics plan. This effort successfully resulted in zero operational disruptions and unplanned shutdowns."
A major challenge the team overcame was the original proposed location of the project. "Due to operational disruptions and the cost of phased construction, the design required a fresh approach," explained Cindell. "This was achieved with a new site location and revised scope that met all program needs, provided the opportunity for expanded services and advanced technology, and met the established budget."
Through design-build delivery, the project team effectively decreased the total project cost by 10%, and under the original budget in spite of $12 million in added scope. Furthermore, this was all accomplished while meeting strict hospital, local and state requirements and bettering the project schedule by 5 months, even with the 9-month externally induced project delay associated with the entitlements.
"Our team has worked together on other projects, but this has been the most collaborative design and construction effort that Petra-ICS/St. Joseph Health System has achieved over the duration of our existence," said Bostic. "It is a model project for 'Best Practices' in the use of BIM tools and the implementation of the design to construction process."
About Petra Integrated Construction Strategies (ICS)
Petra-ICS is a subsidiary of The Innovation Institute, an organization fueled to cultivate innovative solutions to transform healthcare by doing more, with less, for more people. Through a diverse team of professionals, Petra creates safe environments and holistic solutions, which enhance the way care is delivered and the way people live. Services include program and construction management; facility master planning and pre-design; facility infrastructure; organizational resource planning; communications; and community engagement. For more information, visit http://www.petra-ics.com.
About McCarthy Building Companies, Inc.
Recognized as one of the nation's few true builders, McCarthy Building Companies, Inc. is the largest general building contractor and the largest healthcare and education facilities builder in California (ENR California, July 2013). The company is committed to the construction of high performance green buildings; progressive jobsite technology; and safer, faster and more cost-effective execution. In addition to Newport Beach, McCarthy has offices in San Diego, Sacramento, San Francisco and San Jose, Calif.; Phoenix; Las Vegas; Albuquerque; St. Louis; Collinsville, Ill.; Kansas City; Dallas; Houston and Atlanta. McCarthy is 100 percent employee owned. More information about the company is available online at http://www.mccarthy.com.
About Taylor Design
Taylor Design is a full-service firm with practices in architectural, interiors, and strategies; with offices in northern and southern California, the 55-person firm has built a strong practice with a national reputation in the healthcare design industry, and is now poised to explore additional market sectors, including education, and science & technology. Taylor Design's dynamic and effective strategy-based practice assures that decisions made at every stage of the design process make a positive difference for organizations and communities. Clients of the firm have included: Children's Hospital and Research Center Oakland, Oakland, CA; Scripps Health, San Diego, CA; Hoag Hospital, Orange County, CA; UCSF Medical Center, San Francisco, CA; and numerous service areas for Kaiser Permanente, among others. For more information on the firm, visit http://www.WeAreTaylor.com.