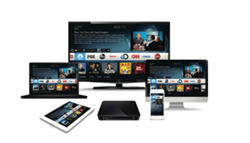 aioTV is not affiliated or associated in any way with aio wireless
DENVER, CO (PRWEB) June 02, 2014
aioTV, a global provider of OTT middleware, attempts to halt confusion related to AT&T's recent media statements on the discontinuation of service for their AT&T aio pre-paid wireless brand.
"aioTV is not affiliated or associated in any way with aio wireless" said Mike Earle, CEO, aioTV. "We value innovation and it started when we launched the aioTV name back in 2011, years before aio wireless came into existence. We continue to build value in our platform and in what the aioTV brand represents", added Earle.
AT&T's public statements and related press coverage has highlighted their discontinuation of the aio wireless brand migrating to the Cricket brand including this headline; "AT&T relaunches Cricket prepaid, kills off Aio brand". http://www.cnet.com/news/at-t-relaunches-cricket-prepaid-kills-off-aio-brand/
About aioTV
aioTV is a middleware platform and back-office tool set that enables video service providers to easily aggregate and authenticate multiple sources of live, on-demand and freely available video content directly to the customer in a single, unified, service provider branded TV experience, with a consistent UI to the TV and across connected devices. The company's cloud based management platform provides the ability to design, package and control an offering leveraging existing infrastructure, billing systems and DRMs for a quick, seamless implementation.
###
Contact:
Jim Anderson
janderson(at)aio-tv(dot)com
303.513.0107