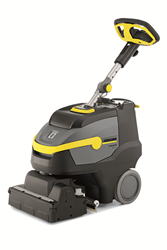 KART provides outstanding maneuverability, as the steering wheel directly controls the machine's brush head.
Camas, WA (PRWEB) July 07, 2014
The new BR 35/12 compact scrubber drier from Kärcher has been nominated for the 2014 ISSA Innovation Award Program. The unique BR 35/12 C Bp floor scrubber features a new steering concept (KART – Kärcher Advanced Response Technology). KART provides outstanding maneuverability, as the steering wheel directly controls the machine's brush head. Its maintenance-free lithium ion rechargeable battery provides significant weight savings over the use of conventional battery technology - making this compact scrubber particularly light and easy to handle.
The steering of the brush head dictates the travel and cleaning direction while the propulsion force of the roller brush drives the machine forward. This allows the user to clean away from a wall at right angles and reach tight corners. Turning the brush head inward allows the BR 35/12 C Bp to clean in reverse. The stainless steel steering column is height adjustable and can be folded down for storage and transportation.
The roller brush cleans highly structured floors efficiently, thanks to a small surface area ensuring high contact pressure. The roller brush can also be used for pre-sweeping, combining the functions of sweeping, scrubbing and drying in a single pass. A variety of roller brushes – such as pad or microfiber rollers – are also available for different floor types and cleaning applications.
Compared to conventional batteries, the lithium-ion battery used in the BR 35/12 C Bp has triple the service life, and can be completely charged in just three hours, allowing the user to work uninterrupted for more than an hour, or up to 90-minutes in eco!efficiency mode. Eco!efficiency is a selectable mode that allows the scrubber to operate at approximately 70% of power and reduces water consumption. In this mode, sound is also reduced by approximately 40%.
For over 75 years, Kärcher has been a world leader in cleaning technology. With over 2,000 products, Kärcher understands cleaning challenges and provides innovative solutions. Kärcher has more than 1,000 registered inventions and patents, with over 85% of its products developed in the last 5 years. Around the world, Kärcher is known for power, quality and innovation.