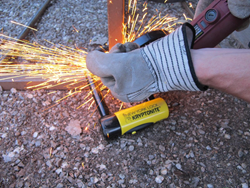 Cheyenne, WY (PRWEB) May 30, 2014
After three months of testing, OutdoorGearLab has released its awards for the best bike locks. The well-respected gear review website chose seven of the industry's top performing products, including cable, chain, and U-style locks by manufacturers such as Kryptonite, OnGuard, and Hiplok. Gear editor Rylee Sweeney then assessed each model's performance across a range of weighted metrics. Her everyday use of the bike locks gave her an excellent understanding of how easy each lock was to transport and use. While some models came with mounting brackets and others were very lightweight, she also encountered some challenges when transporting certain products. Taking into account the size of the lock, she also noted how much of the bike a user could secure with any given product. Cables provided the most versatility here, but she recommended spacious U-locks as the product of choice for individuals who want to maximize security and versatility.
Once she had comparatively assessed each piece's performance during daily usage, she and a team of testers rounded up a variety of commonly used tools for bike theft. Additionally, an experienced lock pick tried to break into each product. Beginning with wire snips and hacksaws, Sweeney first tried to break into the bike locks with hand tools. She was easily able to breach the cable locks with a variety of simple tools, including a hammer, wire snips, and bolt cutters, but the heavier duty chain and U-locks proved significantly more secure. After trying to pop open each "U" with a pry bar (to no avail), she and her testers resorted to an electric angle grinder. While the medium security products fell under one cut to the shackle, the highest security models required two cuts. Sweeney notes, however, that once a thief brings an angle grinder to the fight, a bicycle stands little chance.
At the end of the testing process, OutdoorGearLab presented three products its top honors: the Kryptonite New York Standard U-Lock earned the Editors' Choice award, the Kryptonite KryptoLok Series 2 Standard U-Lock won the Best Buy award, and the Hiplok V1.50 Chain Lock received the Top Pick for Commuting award. Read on for more information about each winner.
Kryptonite New York Standard U-Lock
A high-security bike lock, this Kryptonite product features a classic design with a dual locking crossbar. In OutdoorGearLab's tests, it took 43 seconds for Sweeney to grind through the 16 mm hardened steel shackle. Then, once she had cut through, the lock still stood strong; to break into this model, the bicycle thief would either have to make a second cut, or use a hammer to force the shackle apart. In daily use, the testers found this product simple to stow on the frame mount and relatively easy to use. The shackle is wide and long enough to accommodate an immovable rack, the bicycle frame, and both wheels (when the front wheel is removed), which earned it extra points in OutdoorGearLab's versatility metric. Although this product was on the higher end of the price spectrum, Sweeney points out that it is well worth the investment, especially given Kryptonite's included bike protection plan.
Kryptonite KryptoLok Series 2 Standard U-Lock
The gear review website honored the KryptoLok Series 2 with the Best Buy award for its combination of good security and versatility at a decent price. Ringing up at just under $50, this product was not the least expensive in the review; however, it offers a lot of bang for the buck. The KryptoLok Series 2 comes with a four-foot cable that the user can employ to protect the front wheel, bike trailer, saddle, or other component. Although this piece did not score as highly on OutdoorGearLab's security metric given its single-locking crossbar technology, it made up points in the versatility category. Overall, Sweeney reports that this lock is relatively easy to use and ideal for individuals in need of a medium security product.
Hiplok V1.50 Chain Lock
An innovative twist on the typical bike lock, the Hiplok V1.50 Chain can be worn around the waist, making it ideal for bicycle commuters. Made of 8 mm hardened steel chain, the Hiplok V1.50 resisted all of the testers' hand tool assaults; however, its shackle fell beneath the angle grinder in under 20 seconds. The testers who used this product attested to its overall ease of use and to its extremely unique transportability. Hiplok lined the chain with a nylon sheath that makes wearing this lock a breeze. Although the Hiplok was one of the most expensive locks in the review, Sweeney touted this product's ingenuity and highly recommends it to regular bicycle commuters.
About OutdoorGearLab:
OutdoorGearLab LLC is a company headquartered in Cheyenne, Wyoming. Dedicated to creating world's best outdoor gear reviews, the company performs side-by-side testing of outdoor gear and publishes the results in comparative reviews. Each product is scored across a range of weighted categories, competing products are graded, and top performing products receive awards. The company's web site http://www.outdoorgearlab.com, is a free resource for people who love the outdoors and participate in activities such as hiking, climbing, backpacking, and camping.