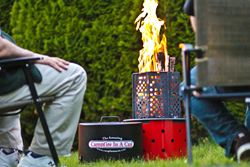 Inside the can is everything you need to have a great campfire and do some camp cooking.
(PRWEB) June 03, 2014
Better by design, Campfire In A Can® makes it easy to have a campfire.
Inside the can is everything you need to have a great campfire and do some camp cooking. Just grab and go, no more looking around for parts or pieces. This campfire goes from campfire to cooking and back again simply and easily.
It burns wood, charcoal and fire logs in a vertical burn chamber. The fuel is strategically positioned using burner inserts and burned in the upright position. The unique burner design allows all the elements that make a great fire to come together to produce a good old –fashioned, roaring campfire.
The canister and base design allows the fire to be quickly and safely extinguished by placing the canister over the base. Once the canister is snapped down the fire goes out and no smoke or debris can escape. Once cool, the compact size makes it easy to store and transport.
The perfect blend of durability, size and ease of use make this the most unique and effective campfire. Hassle-free and fun – the way a campfire should be. It is ideal for camping, the backyard, beach and everywhere in between.
All Campfire In A Can® products adhere to the Leave No Trace philosophy – protecting you and our environment.
Campfire In A Can is raising funds through a Kickstarter campaign starting June 3 2014 with special pre-release pricing of $105. The product is targeted for wider release Q4, 2014 for $200.
Campfire In A Can portable campfires are designed with the outdoor enthusiast in mind. That's because we're outdoor enthusiasts, too. In fact, we were inspired to develop our products because we couldn't find the kind of premium quality outdoor fire pit we were looking for. Campfire In A Can is a family company proud of its innovative products that make your outdoor activities fun. Dedicated to customer service, warranty support and continuous product improvement, the business continues to grow primarily through word-of-mouth and enthusiastic customer referrals.
See the new Campfire In A Can now at: http://kck.st/1k92neP.
High resolution images are available at: http://campfireinacan.com/press.html.