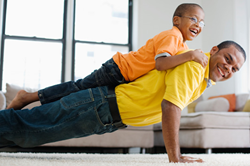 Changeyourenergy.com's Father's Day Sale event is offering discounts of 15%-40% on select items for Dad.
(PRWEB) May 30, 2014
Every year one half of all working Americans admit to having back pain. In fact, it is one of the most common reasons for missed work. Yet most back pain is caused by stress and does not have any physical cause. Don't let it happen to Dad!
Stress release and physical exercise have been shown to dramatically improve back pain.
The online shop has a number of wellness items on sale in time to celebrate dad this Father's Day. Save big on stress reducing on back bolsters, massagers and other tools to help dad sit back and relax.
ChangeYourEnergy.com's Father's Day Sale event is offering discounts of 15%-40% on select items for Dad.
Go to the ChangeYourEnergy.com shop to find massage and meditation tools, books, back bolsters and more body supporting props for pops!
Find savings with sale items such as the Upper Back Bolster, the Ankle Massager, the Yulnyo Walking Stick/Flute and so much more for Dad!
ChangeYourEnergy.com is also where you'll find useful tips to release lower back pain with videos and articles such as Strengthening Your Lower Abdomen and Lower Back Pain Relief.
Enjoy the Father's Day Sale from May 26 through June 15, 2014.
About ChangeYourEnergy.com:
ChangeYourEnergy.com is a health and wellness resource based on the energy principles and philosophies of Ilchi Lee, a meditation and brain education scholar. Changeyourenergy.com offers accessible, around the clock guidance, inspiration and practical online training to enable people to realize and activate their full human potential. The site offers lifestyle tips, health and wellness articles, live online classes, exclusive seminars and other personal development content and opportunities.