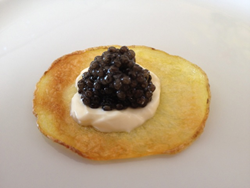 Reno, NV (PRWEB) May 30, 2014
Attendees of "A Toast & Taste of Summer" will have the opportunity to sample some of Mirepoix USA's finest products, including Black River Russian Caviar. The event is one of Reno's largest gourmet food and wine fundraisers. "A Toast & Taste of Summer" is organized by Encore Beverage, with proceeds benefiting the Nevada Diabetes Association.
"A Toast & Taste of Summer" will be held in the Grand Ballroom at the Atlantis Casino Resort Spa on Thursday, June 5, from 6 – 9 pm. Approximately twenty restaurants and gourmet food stores and forty unique wineries and microbreweries will serve their products to the 600 attendees expected at the event. The annual event will feature fine art, a silent auction and live music entertainment. This fundraiser is sponsored by KOLO News Channel 8, The Atlantis Casino Resort Spa, Encore Beverage, Digiprint, Scheels, and Gallery Keoki. Food and beverages are donated by Mirepoix USA, local restaurants, and wineries and breweries from Nevada and California. Proceeds from the public ticket sales and silent auction will benefit the Nevada Diabetes Association.
Mirepoix USA (enjoyfoiegras.com), a leading online purveyor of foie gras, caviar, truffles and other gourmet foods, will serve Black River Russian Oscietra Caviar (acipenser gueldensatedtii) served on Potato Crisps with Crème Fraiche. According to Laurel Pine, Mirepoix USA founder, Black River Caviar is farmed in Uruguay using highly sophisticated farming equipment which almost exactly mimics the natural environment of wild Russian sturgeon. The result is a smooth, creamy, and fresh tasting caviar that rivals wild Russian caviar.
Confirmed wineries include: Alpha Omega, Ancien, Black Kite Cellars, BNA Wine Group, Breggo, Burly, Bargetto, Cliff Lede, Carol Shelton, Eagle Eye Wines, Educated Guess, Elyse, Four Graces, Four Vines, Grace Patriot, Hahn Family, Handley Cellars, Indian Wells Brewery, Jax, Laird, Maritime Wines, Mettler Family, Mi Sueno, Michael Sullberg, Miner Family, Nevada City, Ole Spanish Imports, Opolo Vineyards, Rocca, Schulz Cellars, Sineann, Small Vineyards, Italian Imports, Talisman, Tamber Bey, Upstream, Vineyard 7 & 8, and Yorba.
Confirmed restaurants and gourmet food stores include: Mirepoix USA, Napa Bistro, Sunnyside, Twisted Fork, The Grill, The Grove, India Kebab, Bistro 7 Wedge, G Coffee Bar, Great Thyme Catering, Men's Club, Gas Lamp, Longboards Bar & Grill, Rawr/Bowl, Jazmine, South Creek Pizza, Mario's Portofino and Scheels.
The cost to attend "A Toast & Taste of Summer" is $40 in advance, and $50 at the door. Guests may purchase tickets at the Atlantis Gift Shop, local wine shops or by calling 775.824.4467.
Since 2004, Mirepoix USA has been sourcing the highest quality specialty gourmet foods and traditional French foods from manufacturers and importers across the United States. The company currently offers over 40 foie gras selections; fresh truffles including summer truffles, Burgundy truffles, Perigord black truffles and Alba white truffles and well as truffle based products; French charcuterie, and a wide selection of caviar. In recent years the online retailer has expanded product offerings to include Wagyu and US Kobe beef, French cheeses, and gourmet gift baskets and gourmet food. Mirepoix USA began offering culinary travel and luxury food tasting events in 2012.
For more information about Mirepoix USA, visit http://www.mirepoixusa.com or call 866-992-9559.