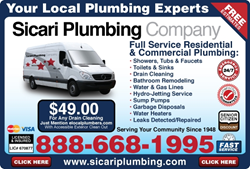 Sicari Plumbing, the flat rate plumbers in Pasadena are now offering several summer discounts. Full details are available online at http://www.sicariplumbing.com.
Pasadena, California (PRWEB) May 29, 2014
Temperatures are on the rise but at Sicari Plumbing prices are dropping! Sicari Plumbing, the leading plumber in Pasadena, has announced brand new summer specials that are sure to make customer's wallets very happy. Full details are available online at http://www.sicariplumbing.com.
Sicari Plumbing's summer specials include $49.00 drain cleanings, $159.00 ½ HP garbage disposals and more.
Sicari Plumbing has been in business for more than 30 years and is proud to be one of the first plumbers in Los Angeles to offer flat rate plumbing services. With flat rate plumbing the customers know exactly how much a job is going to cost before it is started. With most traditional plumbers the exact amount of the bill remains a mystery until the job is complete which has led many to fear calling a plumber.
While Sicari Plumbing is known for providing Pasadena with top-notch plumbing services, they also serve the entire Los Angeles area. That means that those looking for North Hollywood plumbers or plumbers in Santa Clarita can take advantage of Sicari's great summer deals.
To book an appoint or get more information about Sicari Plumbing's summer deals please visit their website at http://www.sicariplumbing.com or give them a call ay (888) 668-1995. Sicari Plumbing is available 24 hours a day, 365 days a year.