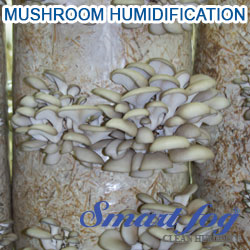 Quality mushroom production requires a precise combination of humidity and temperature. Smart Fog enables non-fluctuating humidity control.
Reno, NV (PRWEB) May 30, 2014
Smart Fog Inc introduces non-wetting commercial humidifiers targeted specifically for high humidity control.
Mushroom growers need to maintain humidity and temperature throughout the growing process. Mushrooms are sensitive to wetting but require high humidity. Smart Fog commercial humidifiers enable growers to maintain high humidity without wetting the product.
"Smart Fog commercial humidifiers provide non-fluctuating and non-wetting humidity throughout the growing cycle. The entire targeted area will have a humidity differential of less than 1%," explains Ido Goldstein director at Smart Fog Inc.
Fresh mushrooms contain 90% water content. The mushroom surface is thin and has not barriers between the mushroom and the air and lose moisture very quickly. In order to maintain 90% water content the environmental humidity needs to be maintained at 95% relative humidity or higher.
The humidity is especially critical while harvesting the mushrooms. During harvest low temperature combined with high humidity is maintained to prevent weight loss and increase revenue.
"Smart Fog provides the same fog as in nature," says Goldstein. "The mushrooms get the true effect of a true fog in an artificial growing environment which enhances the total quality and health of the product."
Smart Fog commercial humidifiers also feature automatic disinfection and sanitation. The growing rooms can be sterilized before each growing cycle. This food safety feature also enhances the product quality.
Clean water is gradually becoming a scares resource. Smart Fog commercial humidifiers utilize the patented decorrelation technology to maximize every drop of water. Smart Fog system enforce every drop of water into the air and generate humidity without wetting any surface.
About Smart Fog
In business since 1980, Smart Fog Inc. is the recognized world leader in non-wetting commercial and industrial humidification solutions. Smart Fog's unique technology provides precise humidity enforcement, light speed uniform coverage and intelligent non-fluctuating humidity control. All Smart Fog products are all engineered and manufactured in the USA. Smart Fog staffs a full range of engineers to advise commercial printers, in-plants, and manufacturers on humidity management and environmental control for operation efficiency and employee comfort.
For more information, visit: http://www.smartfog.com