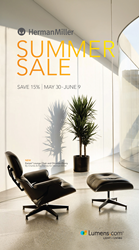 Sacramento, CA (PRWEB) May 30, 2014
Lumens.com announces its Herman Miller Summer Sale, in which customers can save 15% on all furniture, accessories and more from this timeless American brand.
The sale includes products from prolific designers like Charles and Ray Eames. This husband-and-wife duo "just wanted to make the world a better place," and certainly left their mark on American modern design. Also included are piece from George Nelson, who worked with Herman Miller for more than 25 years and helped shepherd design into the modern era.
Noteworthy designs that are discounted during the Herman Miller Sale include:
Eames® Lounge Chair and Ottoman by Herman Miller®: Designed by Charles and Ray Eames for the Herman Miller Collection, this world-renowned piece is in the permanent collection of the Museum of Modern Art in New York City. It is at once lean, modern, playful and functional, and one of the most collectable furniture designs of the 20th century.
Eames® Molded Fiberglass Chair by Herman Miller®: This sophisticated and beautifully simple style is a timeless addition to any space and a best seller in the Herman Miller line. Originally designed in 1950, this design recently rejoined the collection, thanks to a new production process that makes it much more earth-friendly and sustainable to create. The new design retains the same covetable surface variation and tell-tale fiberglass striation that have attracted vintage collectors for decades.
Noguchi® Table by Herman Miller®: Designed by Isamu Noguchi, this coffee table is a careful balance of art and furniture. The distinctive carved wood base calls on Noguchi's background as a sculptor, creating a finished pieces that looks light and delicate, but is a solid and stable addition to a room.
Nelson™ Platform Bench: A clean, rectilinear design from George Nelson that pays tribute to Nelson's architectural background. Designed in 1946, this piece is suitable as a bench, low table or display platform.
From the mid-century to today, Herman Miller creates award-winning products because of its design excellence and ingenuity. Founder Herman Miller described the company's philosophy as this: "For us, design is never just about a finished product. It is a narrative that extends from the designer's vision to the people it touches and places it transforms."
The Herman Miller Summer Sale at Lumens.com includes free shipping on all Herman Miller products. Best sellers from the brand are in stock and ship within 1 business day.
Lumens offers free shipping on orders of $50 or more (exclusions do apply), plus a low-price guarantee and access to lighting experts via our customer service center.
In addition to the Herman Miller Sale, Lumens.com features more than 300 manufacturers, from modern lighting to transitional fixtures and contemporary furnishings, gifts and home accessories. Lumens.com also offers:
-Free shipping on orders of $50 or more (exclusions do apply)
-Low-price guarantee
-Expert service via our customer service center
-Easy, no-hassle returns
-Volume order discounts
For additional information on the Herman Miller Summer Sale, or any of the modern lighting options found at lumens.com, contact Sarah Schaale or visit lumens.com.
About Lumens.com:
Lumens.com is dedicated to offering the very best of design-oriented lighting, fans, furniture and home accessories, from the most contemporary international designs to modern interpretations of classic design.
Contact:
Sarah Schaale, Marketing Communications Manager
Lumens Light + Living
916-444-5885
http://www.lumens.com